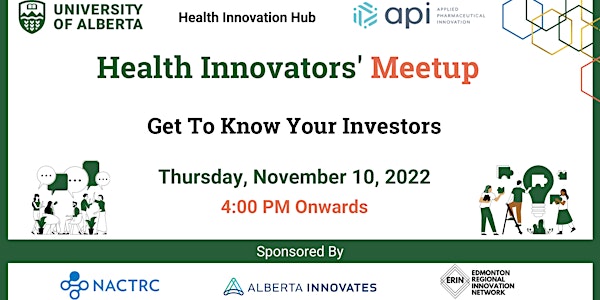 Health Innovators' Meetup
This event has been cancelled. Please stay tuned for further updates.
When and where
Location
Enterprise Square 103 Street Northwest 4th Floor Edmonton, AB T5J 4P6 Canada
About this event
The Health Innovators' Meetup is a monthly series of In - Person informal meetings brought to you by Applied Pharmaceutical Innovation and the Health Innovation Hub.
Location: 4th-floor Enterprise Square, University of Alberta's downtown campus.
It brings together health innovators, researchers, entrepreneurs, leaders, service providers, talent, and enthusiasts to converse on human health innovation-related topics.
"Wonderful, I managed to get some face-to-face time with several people who have been on my radar for a while now... definitely opened some doors!"
Every month, there is going to be a different topic and a different panel. This meetup will give an opportunity to expand on the innovation stories happening here in Edmonton and also highlight the challenges our innovators and entrepreneurs are facing.
Topic for Meetup#7: Get To Know Your Investors
Finding the right investors when raising capital as an entrepreneur is not an easy task. The questions you might ask yourself are:
How to approach investors and where to find them?
How early should you start connecting and building a relationship with them?
What are the investors looking for when deciding who to invest in?
How to choose the right investor for you?
Join our Meetup on November 10th to get into the minds of our investors-panelists, learn how to strategize when targeting investors, get your questions answered and expand your network.
Panelists:
Niall Kerrigan - Senior Ventures Associate & Program Manager, Plug and Play Tech Center
Christian Idicula - Chief Operating Officer, KASTx Ventures
Teruel A. Carrasco - President, Valhalla Private Capital
Funding Partners:
Edmonton Regional Innovation Network- Community Initiatives
Event Sponsors:
Northern Alberta Clinical Trials + Research Centre