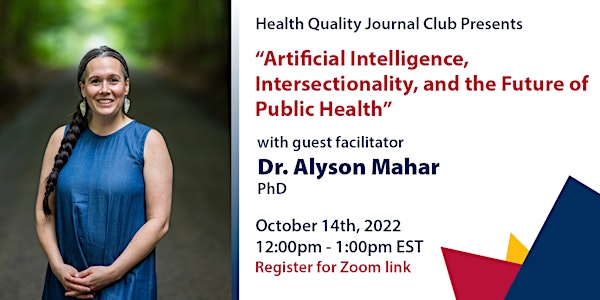 Health Quality Journal Club with Dr. Alyson Mahar
HQ Programs is excited to announce the first HQ Journal Club of the year! Join us as we engage in a lively discussion with Dr. Alyson Mahar
By Health Quality Programs - Queen's University
When and where
Date and time
Fri, Oct 14, 2022 9:00 AM - 10:00 AM PDT
About this event
About the article:
Artificial intelligence (AI) encompasses a broad collection of algorithms that increasingly affect public health both positively and negatively through applications in health promotion, health care, criminal justice, finance, social networks, employment, and other social determinants of health. Although fairness, accountability, transparency, and ethics (FATE) have been recognized in the AI research community as principles for evaluating algorithms, an intersectional approach is needed to ensure that negative impacts of AI on marginalized groups are understood and avoided and that AI reaches its full potential to support public health. Emerging from Black feminist legal and sociological scholarship, intersectionality makes explicit the shaping of experiences by social power in specific ways for those at different intersections of social identities or positions.
About Dr. Mahar:
Dr. Mahar is an epidemiologist and health services researcher focused on using routinely collected health and social data to address inequitable healthcare access and delivery. Her primary research is conducted in the areas of cancer and mental health, focusing on cancer care disparities, cancer staging, personalized prognostication, and intersections between cancer and mental health/addiction. Dr. Mahar is funded by the Canadian Cancer Society as an Emerging Scholar for MEGAN-CAN, a five-year research program focused on measuring and generating evidence around the inequitable delivery of Canadian cancer care across the continuum. She also leads a program of research focused on the mental health and wellbeing of military Veterans and military-connected families and is a member of the Families Matter Research Group.
About the Health Quality Journal Club
The HQ Journal Club is an event that brings together academics, health professionals & the wider community to engage with topics related to health quality including risk, patient safety & quality improvement. Each meeting is led by a guest editor who has selected that month's journal article for review and discussion. This year in particular, journal club activities provide us with a virtual connection to our colleagues and to students and increase the exposure of those that attend to the Health Quality global network.