Sales Have Ended
Ticket sales have ended
Thank you for Registering for a Creative Arts Session! Art is a line around your thoughts. ― Gustav Klimt
Healthcare Worker Creative Arts Telehealth
About this event
Healthcare Worker Creative Arts Telehealth Services (CATS)
"Art is a wound turned into light." ~ Georges Braque
Special Offer: Pay What you Want (value $95)
Tuesdays 9:30-11 &1-2:30
Wednesdays 9:30-11 & 7-8:30 pm
Sat.'s 9:30-11 am
Creative Arts Telehealth is similar to the Art, Dance, Music Therapy programs in hospitals, hospices, and military rehabilitation centres.  We are NOT a counselling service or an art class.  Activities are simple like taking a line for a walk, exploring the colours of life, the spaces between here and there. Each session is a retreat, a 90-minute holiday from racing thoughts, worries, anxiety, pain, fatigue, and sadness. Anecdotal and evidence-based research indicates that Expressive Arts Coaching can provide sustained physical and psychological respite from stress and trauma that contributes to overall health and mood improvement.
The purpose is to explore physically and artistically how we experience our emotions and states of being to gain a better understanding of the range of choices to break unhelpful patterns.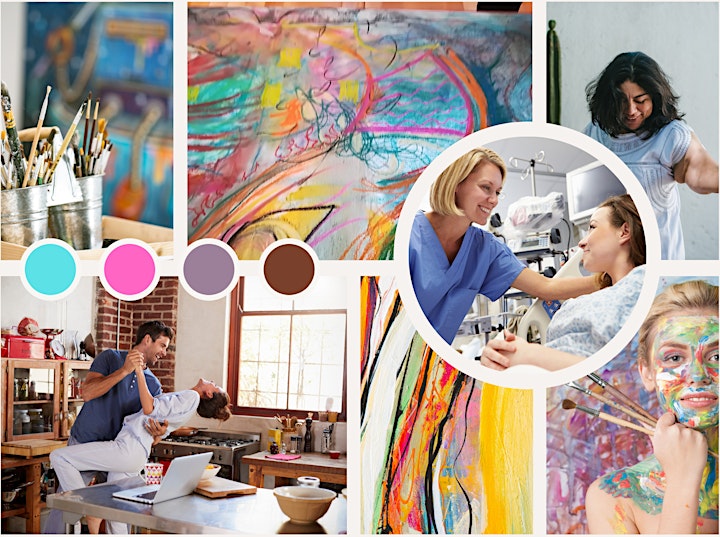 What to expect.
Art Materials/person - markers or crayons or pastels or paint, 2-3 pieces of large paper 11x14 (sketchpad or wrapping paper in a pinch), notepad or voice recorder, pen.
Over the 90 min. you will create 2 artforms using visual art, music, poetry, or dance. The instructions are simple and open-ended. Sessions begin with a check-in, activity time, and close with positive reflection. Participants are asked to commit for the entire experience.
Art Instruction Example.
Pick 2 colours. Cover the page using those 2 colours. Remember the paper is a third colour (white) that you can use in your drawing/painting. Imagine your art is a place. Find 3 movements that express how it feels to be in that place.
Secure Video Platform. Digital Samba donated their highly secure video conferencing platform to Positive Shift because they believe in our vision and our customers. Unlike Zoom, Digital Samba is not hosted through a cloud.