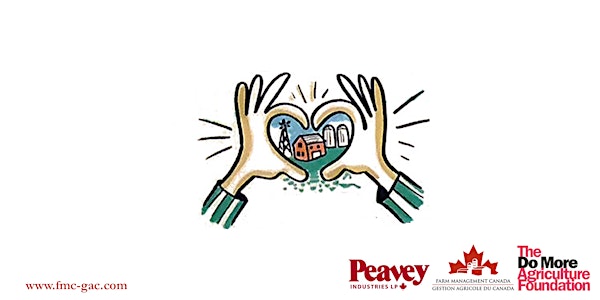 Healthy Farmers, Healthy Farms: Supporting our Rural Communities
Healthy Farmers, Healthy Farms: Supporting our Rural Communities
When and where
Location
Fenelon Falls Community Center 27 Veterans Way Kawartha Lakes, ON K0M 1N0 Canada
About this event
Join us on Wednesday, January 22nd in partnership with Do More Agriculture to engage and educate farmers and the agricultural community at large in support of mental health in rural communities.
A variety of speakers with diverse backgrounds in Mental Health, Farm Business Management and Community Support will help workshop participants recognize the signs of stress and build the knowledge, skills and practices to gain the confidence to assist one another and build a local support network, while putting measures in place to support their own mental health.
Martine Oliveira from AGS Rehab Solution
Darrell Wade, Founder, Farm Life Financial
Kim Segers-Robinson, Farm Life Advisor
AGENDA
8:30am - Registration and light breakfast/coffee
9:00am - Welcome & Introduction
9:15am - Mental Health Modules
12:15pm - Lunch
1:00pm - Business Management Modules
2:30pm - Local Resources
3:30pm - Event concludes
Farmers are the backbone of our rural communities. However, our farmers are facing risk and uncertainty like never-before, from Mother Nature to changing markets and regulations, much of which is outside of their control. Public trust is now putting more pressure on farmers. A recent University of Guelph study shows farmers suffer from higher rates of stress, anxiety, and depression than the general population. This incredible stress is jeopardizing our farmers' health and likewise, the health of our rural communities. There is a stigma around mental health in the agricultural community – one that must be brought to light, so we can work towards solutions and greater support. When it comes to farming, the effects of mental health go beyond the individual. The business must keep going, the team must be led, the animals must be fed, crops managed, cows milked and local community and economy supported. Farm business management facilitates mental preparedness, reducing stress and the physical, mental, emotional and behaviour consequences thereof. Hence, there is an inherent connection between mental health and managing the farm.
Kawartha Lakes is one of four locations for this series. Other locations include North Grenville, London and Guelph. If you reside closer to any of these other communities, details on those sessions will be released shortly.