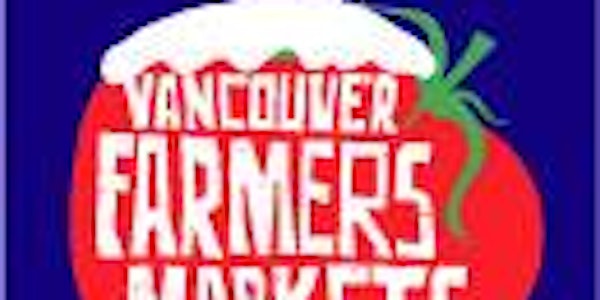 Healthy Habits Food Swap at the Hastings Park Farmers Market
When and where
Location
Hastings Park Farmers Market 2901 East Hastings Street Vancouver, British Columbia V5K 5J1 Canada
Description
It's time for another food swap and this time we're turning over a new leaf and focusing on healthy habits for the new year! We're encouraging all swappers to bring something with healthy twist - be it a nutty home-made granola or a batch of low sugar jam. Think about your favourite healthy treats and staples or try something new - now's the time! New and returning swappers welcome!
We're partnering with Vancouver Farmers Markets for this, our 6th outdoor swap!
What
A food swap is an event where you trade your homemade, homegrown, and foraged creations with other participants. Taste. Talk. Have fun!
Who
We welcome everyone, as long as you bring something you made, grew, or foraged yourself. You must pre-register to attend. If you plan to bring a family member or friend who will be swapping their own foods, please register them separately. Kids and partners are welcome to attend with you - the farmers market is a great place for the whole family. You'll have time to shop before, during or after the swap.
When
Sunday, February 28, 11am - 12:30pm
Where
The Hastings Park Winter Farmers Market which is located at Hastings Park, sometimes known better as the PNE. If you're driving in, enter at Gate 2 and tell the attendant that you're there for the farmers market. Parking will be free for farmers market shoppers. Swapping will be happening under a couple 10 x 10 tents (depending on the number of participants) - stop by the red Market Information tent if you don't see us right away.
Cost
There is no fee for the swap. We appreciate donations to cover the costs of small stuff like pens and paper and nametags - we'll have a donation jar at the swap registration table. If you can offer to supply any of these supplies, bring them or let us know how you can help!
What to bring
For a great primer on attending a food swap - visit this page on the Food Swap Network website
FOR THIS SWAP, DON'T FORGET THE THEME - HEALTHY HABITS! THINK OF GLUTEN-FREE, DAIRY FREE OR GENERALLY HEALTHY TREATS AND FOODS THAT FIT INTO A HEALTHY LIFESTYLE.
• Food to swap: All swap items must be homemade, homegrown, or foraged by you. Think pickles, preserves, baked goods, honey, granola, pasta, fruits, vegetables, herbs, spices… but keep it to low risk foods (ie. no canned meat or homemade cheese)! Refer to this list of low risk foods if you have any questions about the type of food to bring.
Bring as little or as much as you like but we recommend at least 10 pieces total to be able to have the full swap experience. This swap will be limited to 15 people. You can bring a bunch of one thing or multiples of a few different things. The possibilities are endless! Keep an eye on the attendee list after you register - you'll get a sense of how many people will be there and what they'll be bringing.
Keep in mind that swappers will be examining and picking up your goods, so be sure to package them in a way that protects the food and makes it clear the amounts you want to swap. When applicable, it is recommended that you include storage and shelf life information.
Package for presentation too! Ziploc bags are fine but fancy cello bags with ribbon may be what catches the eye of a prospective swapper. Show off your presentation skills by bringing a little creativity to the party!
Consider portion sizes. An entire cake will only have a few dance partners if most of the swappers bring jams and pickles. Consider portioning cookies into packages of 6 or 8 or 12 - rather than an entire batch.

Bring samples so people can taste before buying! We will provide a hand-washing station but please prepare samples so they are easy to try and won't spoil if it is hot out.

• Swap card: Swap cards help people learn more about the items you've brought. Bring one swap card for each different item you're swapping. For example, if you're bringing 5 jars of strawberry jam, 5 jars of apricot jam, and 10 bunches of rosemary, fill out 1 card for the strawberry jam, 1 card for the apricot jam, and 1 card for the rosemary. Fill out the top part only (Who, What, Notes).
Download swap cards here. (Best to complete them in advance although extras will be available on site)
• Release form: Please note that you will need to sign a release form in order to attend. Print, sign, and bring it with you to the swap. No printer, don't worry - we will have a few copies at the swap too.
Don't forget to like us on Facebook: www.facebook.com/foodswap.bby and follow us on Twitter at www.twitter.com/foodswap_bby
If you have any questions, please feel free to contact Roberta at frontburner@shaw.ca
The Honour Code

This is a community event; however, participants must pre-register, which means this event is operated as a private club.
In addition, all swap participants adhere to an honour code of using the highest cleanliness standards in their own kitchens and gardens to prepare their swap items. Swap participants must agree to the following terms before registering:
• By participating in this event, you are acknowledging that the food items being shared are not necessarily prepared in commercial kitchens or spaces inspected by any government agency.
• By participating in this event, you are also acknowledging that you will use the highest standards of safety and cleanliness in food preparation.
• By participating in this event, you assume all liability; specifically, you agree to not hold liable food swap hosts, swap venue owners/providers, or other swap participants.