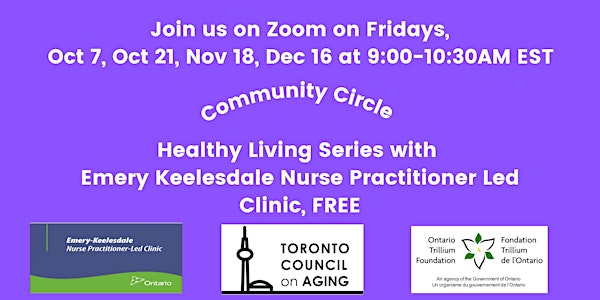 Healthy Living Series: 101 Nutrition Basics
Healthy Living Series: 101 Nutrition Basics with Emery Keelesdale Nurse Practitioner Led Clinic
About this event
Our bodies need a variety of nutrients to function properly and avoid any kind of deficiencies. It has often been seen that people stop eating foods from a specific food group - that results in nutritional deficiencies and other health problems. Hence understanding the basics of nutrition makes it simpler to make wise decisions of any dietary changes you want to make for healthier lifestyles.
Upcoming Healthy Living Series, please register for events separately.
This workshop will teach you:
• The basics of nutrition
• The different food sources of nutrients
• How to get the nutrition that your body needs with some simple strategies you can easily put into place.
Background of presenter:
Alka is a Registered Dietitian & Certified Diabetes Educator and works for Emery Keelesdale Nurse Practitioner Led Clinic. She has been working in the Chronic Disease arena for the past 15 years. Alka is a strong advocate for self-care especially when living with a chronic disease.