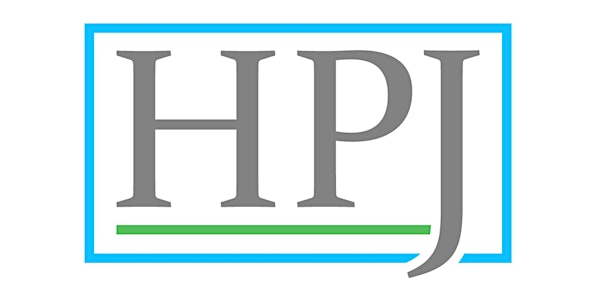 Healthy Populations Webinar Series: Author Spotlight
Healthy Populations Journal (HPJ) presents a new webinar series: Author Spotlight that highlights HPJ published student authors
About this event
Welcome to the second session of the Healthy Populations Journal (HPJ) webinar series: Author Spotlight. The HPJ webinar series happens in tandem to each launch of a new journal issue and highlights two student authors that have published in the most recent issue. For this sessions, two authors who published articles in our upcoming Fall 2(2) Special Issue: Social Determinants of Health will be presenting their work, followed by a Q & A session. Bios of our speakers and titles of presentations can be reviewed below:
Presentation 1:
Speaker: Katharine Dunbar Winsor (she/her), PhD Candidate Concordia University
Title of Manuscript: Developing an FASD prevention social media campaign using community-based participatory peer review: Notes on health promotion from Atlantic Canada
Bio: Katherine is the Executive Director fasdNL is a sociologist/criminologist who researches the intersections of health and criminalization, and emotions. This involves the study of the relationship between social determinants of health and processes of criminalization, as well as substance use. Her doctoral research explores the realities of community service providers working with criminalized women around substance use and motherhood in Atlantic Canada. She has numerous articles published in peer-reviewed journals and has presented at conferences nationally and internationally. Since 2015, Katharine has worked for fasdNL, a pan-provincial non-profit organization in Newfoundland and Labrador focused on fetal alcohol spectrum disorder (FASD) training, advocacy, awareness, and research. In 2020, Katharine was appointed Executive Director of fasdNL and currently leads a three-year Atlantic-wide FASD project funded by the Public Health Agency of Canada (PHAC) focused on building broad awareness, resources, training capacity and collaborative action in Atlantic Canada. Katharine is completing her PhD (ABD) in the Department of Sociology and Anthropology at Concordia University in Montreal. Her research is supported by the Social Science and Humanities Research Council of Canada (SSHRC). Prior to her PhD, Katharine completed a Master of Arts (Sociology) and a Bachelor of Arts (Sociology) at Memorial University of Newfoundland and Labrador. She currently teaches contractually at Bishop's University. In her academic and non-academic work, Katharine is committed to contributing to community-based research addressing health equities in Atlantic Canada.
Presentation 2
Speaker: Marichelle Leclair (she/elle), PhD Candidate – Department of Psychology & School of Public Health, Université de Montréal
Title of Manuscript:Moving towards meaningful change, one uncomfortable conversation at a time
Bio: Marichelle is a doctoral candidate in psychology (Université de Montréal), with a background in epidemiology and public health. Her research uses a health equity lens to improve mental health services for highly underserved and marginalized people in Canada, more particularly those who are justice involved.