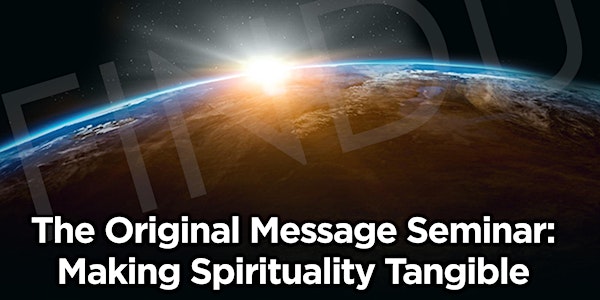 Hearing The Original Message Seminar: Making Spirituality Tangible, Prt. 2: Meditation
By Marrett A. Green, MSSc
Date and time
Tue, Apr 21, 2020 6:30 PM - 8:00 PM PDT
Location
Rm. 2, The West End Community Centre 870 Denman Street Vancouver Vancouver, BC V6G 1J6 Canada
Description
DESCRIPTION

"A star does not shine from the Energy of others: Have confidence; like the first Spark of morning Light against the entire night sky, recognize the Power and the Brilliance within you."


---

We are delighted to invite you to a transformational evening with Marrett Green.
All religions tell us to have (blind?) faith; yet we know faith is for those without Knowledge. King Solomon said: "It's The Glory Of God To Conceal A Matter, and the honour of kings to seek them out. Nostradamus said: "Heaven is as close to our senses, as the earth is to our feet. Science tells us we are living a physical existence within a metaphysical paradigm. Nature Gives us enough to reflect upon for a Greater Understanding of that which we see, and suspect.

Join us for this unique opportunity to engage in exploratory conversations on discoveries about YOU and your Tangible Connection to Spirituality via Nature/science.

All are welcome to Join, Listen and Share. And of course it's FREE (as Source Energy). We hope to see you there.
Curious for further details? Please contact marrettg@gmail.com with any questions.
---
Comments From Previous Attendees:

TUES., July 23, 2019 - Vancouver, WestEnd Community Centre

Hi Marrett: thank you for that excellent presentation last night. Where do we go from here?
- love+ Ken

Thank you WestEnd CC. The seminar was wonderful and useful. I hope you will have more of these.
- Attendee

TUES., SEPTEMBER 11, 2018 - Vancouver, WestEnd Community Centre

Hi Marrett,
I just wanted to drop you a quick note and let you know I really enjoyed your presentation last night at the west end community center. I found it fascinating. But I have to tell you a funny thing, I thought I was going to a class call mindful meditation that had a free trial class from 6:30-7:30, I was pleasantly surprised to experience your presentation and, like I said, found it fascinating and was looking forward to the rest of your classes. This morning when I went online to sign up for the remainder of the mindful meditation class I found out it was at the coal harbor community center, and I had no idea which class I went to last night lol. I ended up calling the west end CC and they managed to figure out it was your class.
I actually left about 7:45 because I thought it was running long and you might want to get going, but I see from the description it was actually scheduled for 6:30-8pm. I wish I had of stayed and asked a few questions.
Anyway, I just wanted to let you know this for some reason, maybe it was meant to be or something, kind of like your dream about being in the pyramid.
I might come to your next presentation at the wecc in October. please let me know if you are doing any other presentation classes etc on the subject as I would be interested.
Stan


TUES., AUGUST 21, 2018 - Vancouver, WestEnd Community Centre

Hi Marrett. I attended your seminar tonight at the west end community centre and I just wanted to reach out and let you know how much of a positive effect it had on me. I am part of a 12 step program, I also lost my grandmother last year to brain cancer (I was very close to her, she was like my mother) I have been struggling with that for a while now and struggling with a connection to something bigger and kind of just figuring out what that is. You have put a lot of things in perspective for me and in a very positive light and I just wanted you to know that... Thank you for your time and sharing your wisdom, your knowledge and part of your personal story with us tonight. Amazing!
-Guest


TUES., APRIL 17, 2018 - Vancouver, WestEnd Community Centre


---I wish more people would join this program. I went into the Bidwell room for this program called The Original Message: Making Spirituality Tangible. I really enjoyed it, most enlightening with pictures to explain the meaning of spirituality.
Transcribed from WECC Comment Box
-Guest


-- Hello Marrett,
I found your presentation very informative and a lot of it resonated with me as I have been fascinated by Egyptian culture from childhood on...so many mysteries there....
If it's not too much trouble, let me know about the next series of the Original Message/ Spirituality
-Petra

SAT., JANUARY 13, 2017 - Vancouver, Bidwell Room, WECC

--- Hi Marrett
I'll watch for your future events and let my friends know. I'm part of a spiritual Bookclub and they would have loved your presentation today. We've been reading much of what I imagine informs your perspectives.... You were definitely talking a familiar and beloved language!!!!
Your passion for the Road Less Travelled and for the true nature of existence is tangible, infectious and substantial. It was a pleasure and privelege to be in the presence of one as lit with love for creation as you are. I was touched and intrigued by your Personal sharing, expanded in my knowledge by the research you shared, and inspired in my soul to dive further into the invisible realms for guidance rather than buy the (stale) status quo. Deep gratitude for your courage and commitment to open all channels to love, and to live your purpose as a messenger on this precious earth --the school of love.
-Sara Kammerzell, M Ed.

SAT. JUNE 10, 2016 - Vancouver

---This event was a wow experience, a truly fascinating seminar Im hugely grateful for attending. Thank you SO SO much to the incredible Marrett Green for sharing so kindly. See you next time without hesitation
-Kyle


SAT. APRIL 2, 2016 - Vancouver
--- Great message! Very accessible and well presented. I wish more people get to hear your message and are able to open their hearts and minds.
-Umair

--- That was a great seminar Marrett! It was ment to be, your dream and experience in Egypt and me reading about the great pyramid right before the event was really weird but really cool!
-Ronaldo

--- The seminar was incredible! Marrett is an amazing person and it was beautiful the way he shared his experiences and his knowledge with us. Everything he said was very interesting and it was based in a lot of research. He is very smart and it's nice to see how even though he already knows a lot, he's open to keep learning. During and after the seminar he was very open to answer questions and to listen to comments and suggestions. I'm really grateful that our paths crossed and I can't wait for the next seminars! Thank you so much Marrett! =)
-Lara


SAT. FEBRUARY 20, 2016 - Vancouver
--- Hi Marrett,
Great presentation the other day, it was quite insightful and the discussion afterwards was very entertaining:).
- Janice

--- So grateful that Our paths crossed. Your seminar was awesome. I hope you'll be in touch to advise me of your future seminars so I can offer it to my friends. I would love to be able to talk to you more and to share experiences, and beliefs. Our discussion after your seminar was not only intriguing, awesome and mind boggling. Loved it. Grateful for sharing your experiences.
- Jasna

--- I would recommend this seminar to anyone with an open mind no matter where they are on the journey to realizing their spirituality. Marrett not only shares with us a number of fascinating examples of first hand experiences but also world phenomenons backed by scientific research, which helps link the tangibles to the intangibles; thereby helping us to consider the bigger picture of things.
- Loretta

SUN. OCTOBER 16, 2011 - Vancouver

--- Marrett radiates a spiritual assurance of well-being and a thoughtful, non-contentious poise that informs and animates his insightful comments. A fun evening. Hope to have him back at some point.
- Member

--- I always like to hear various POVs & Marrett provided quite a fascinating lecture & discussion.
- John F.

--- Wonderful evening tonight with Marrett, like a galactic cafe this evening...an elegant and poetic presentation on Source energy that we are all a part of and the truth and evidence of the metaphysical intelligent design of creation... great job come again.
- Steve
About the organizer

In 2003/4, Marrett was serendipitously called to Ismailia, Egypt, north of Cairo, to write the memoirs of an Egyptian doctor. Unbeknownst to him, he would also begin a Spiritual Journey just shortly after arriving in the Middle East, launched with an unexpected revelation that came through as clear as a voice: "Have Confidence; like the first spark of morning Light against the entire night sky, recognize the Power and the Brilliance within you." 
Since then Marrett has come to realize Nature Gives us all we need to reflect upon for a Greater Understanding of ourselves, and Life; and that we are truly students of The Greatest Teacher, still learning how to Listen. 
Today, in The Original Message Seminars, Marrett helps to identify and introduce the Tangible Connections Between This Creative Source Power, and The Brilliance Within You. 


---
Among other titles, Marrett Green is a former award-winning news anchor (YTV, UTV, Global, CTV), television news journalist, producer, and published author.
Marrett has taught Electronic Media Strategies and Oral Communications within the School of Business at Kwantlen Polytechnic University. 
Mr. Green is also a post-secondary education curriculum/program developer, creating a crisis communications course for the Forensic department at The British Columbia Institute of Technology (BCIT), as well as a new (Media Relations Associate Certificate) program for BCIT's Broadcast and Media Communications - coalescing and chairing the Communications Advisory Committee – assembled as part of the accreditation process. 

Before achieving his Masters in Mass Communications Research with the University of Leicester in 2005, Mr. Green worked in the Media Relations Office at the Greater Vancouver Regional District (Metro Vancouver), and soon after took on the role of Media Relations Manager for BCIT. 

Marrett is also the founder and CEO of a registered Canadian charity the Canadian Flowers for Food Society (CFFFS) (FB), helping to provide marginalized individuals with social and financial opportunities since 2005. 

Mr. Green was also commissioned by McGraw-Hill Ryerson Ltd. to review the First Canadian Edition of Lucas "The Art of Public Speaking," prior to its publication in 2008.

Marrett co-authored his first cookbook "Sugar and Spice & Everything Irie: Savoring Jamaica's Flavors" with Veda Nugent (mother) in 2002 (Callawind publications).

Marrett is most proud of the 12 years+ he spent teaching the tenets of TaeKwon-Do to young students in the lower mainland, now active minds helping diffuse darkness (Chaos) to Light (Order), as part of our Purpose in Life. 

Today, he continues working on several community and personal projects including the design and development of the ReFlow G2RS (FB), the first compact shower/bath-to-toilet grey-water recycling system allowing apartments and condominiums to recycle their grey-water, without remodelling or pipe retrofitting. The ReFlow was developed with the National Research Council of Canada (NRC) and saves up to 30% of any household's freshwater consumption.  

Marrett is also the founder of Mosaic Riddim and primary writer of its Original Roots Reggae and Dance-hall songs. Audience members say: One feels what Mosaic Riddim plays...