Heart-Mind 2018 - Take Care of Yourself: Science and Practice of Well-Being
Description
Heart-Mind 2018 Conference
Join us for a unique gathering that will engage your mind and touch your heart. Heart-Mind 2018: Take Care of Yourself explores how self-compassion and being kind to ourselves improves our well-being, and makes it possible for us to be more present and caring for the children and adults in our lives. The conference brings together leading minds who share the latest science and practice of wellbeing in the context of education, parenting, mental health and more! Enjoy rich opportunities to connect with others, laugh, be inspired, and experience some sparks that help ignite our own journey to well-being.
Standard Group Ticket rate of $315 + fees + GST available from December 16th for groups of 8 or more.
Please contact info@dalailamacenter.org for your group discount code.
Day 1: Features presentations by scientists, educators, community and workplace leaders who focus on the key ingredients of wellbeing for individuals and organizations. In addition to Keynote presenters, there will be performances and presentations, Mindful Moments, and "Reflect and Connect" breaks.
Day 2: On the second day of the conference, after a morning plenary session, participants have the choice of taking part in either a Big Conversation, Small Group session or an in-depth Workshop where they learn hands-on strategies that encourage and guide self-care and well-being. The name of each session will be provided at the point of purchase where you will be asked to select which one you would like to attend. For detailed information about each session please visit our website here.
Pre-Conference Event:
Building Peace and Well-Being Through Education
The Dalai Lama Centre for Peace and Education is delighted to partner with the SFU Centre for Dialogue in hosting a pre-conference event: Building Peace and Well-Being Through Education, with Alice Nderitu, recipient of the 2017 Jack P Blaney Award. For more details about the pre-conference event please see below. You can purchase a pre-conference ticket together with a conference ticket on this site. If you would like to only purchase a pre-conference ticket go here.
Complimentary Book
Dan Siegel's

"The Yes Brain- How to Cultivate Courage, Curiosity, and Resilience in Your Child".

Every conference participant will receive a copy of New York Times best selling author Dan Siegel's new book "The Yes Brain". The first 150 people to buy a conference ticket will receive a signed copy of the book.
Conference Speakers and Program
We have an exciting line-up of speakers including Dr.Dan Siegel, Dr. Rick Hanson and Patricia Jennings. For information about all of our speakers and program please visit out conference webpage here.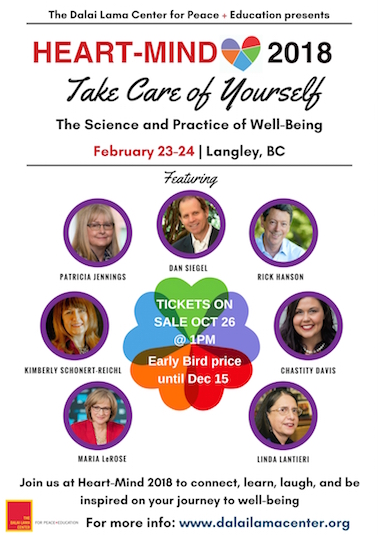 Conference Locations, Dates and Times
Day 1, February 23rd, Registration: 7:30am- 8:30am, Program: 8:30am- 3:00pm
Coast Langley Hotel
20393 Fraser Hwy, Langley, BC, V3A 7N2
Day 2, February 24th, 8:30am-1pm
Walnut Grove Secondary School
8919 Walnut Grove Drive, Langley, BC, V1M 2N7
Accomodation Conference Rates
Coast Langley Hotel Rate: $115.00 plus taxes per night
Contact Reservations: 604-530-1500
Request: Heart Mind Conference Room Block
Group Code: GF6349
Room Block held until rooms are sold out
Best Western Plus Langley Inn Rate: $115.00 plus taxes per night

Contact Reservations: 604-530-9311

Request: Heart-Mind 2018 Room Block

Group Number: 1277

Room Block held until February 8, 2018
Pre-Conference Event
Building Peace and Well-Being Through Education
Date: February 21, 2018
Time: 7:00PM-9:00PM
Ticket Price: $25 (Purchase tickets here)
Location:
Simon Fraser University Goldcorp Centre for Arts
Djavad Mowafaghian Cinema
149 W Hastings St, BC V6B 1H4
SFU Centre for Dialogue and the Dalai Lama Centre for Peace and Education (DLC) are proud to present Alice Nderitu – internationally recognized leader in the use of dialogue to advance peacebuilding and violence prevention – at this Heart-Mind 2018 pre-conference event. Please join Alice Nderitu, recipient of the 2017 Jack P Blaney Award, in dialogue with Maria LeRose, DLC event moderator and award-winning television producer.
The theme of Heart-Mind 2018 is Take Care of Yourself: The Science and Practice of Well- Being. Alice has worked to promote pluralism at all levels of conflict prevention by empowering diverse voices and including historically excluded groups in the mediation process. She has also developed Kenya's first and only curriculum manual on conflict prevention and ethnic inclusion.
This powerful dialogue will explore issues surrounding Alice's peacebuilding work –ethnicity, identity, the power of storytelling, and the role of education in building strong pluralistic values and well-being.
"Conflict is a fact of life. Violence and conflict do not mean the same thing because conflict involves choices that include interventions before it becomes violent. We must now join hands to work towards the kind of interventions that promote community ownership of peace."
– Alice Nderitu
For further information about Alice Nderitu and the event please visit this page.

Photograph and Video Permissions
This event will be videotaped and/or photographed by The Dalai Lama Center for Peace and Education (DLC). Photographs and/or video footage will be posted to the Internet for educational purposes or used in DLC promotional media. These items will not be distributed or made available for use or purchase by any other organization for any purposes. This is in accordance with Section 26(e) of the Freedom of Information and Protection of Privacy Act (FIPPA).
At point of purchase, please check the box to acknowledge your agreement to be included in any video footage and/or photos taken by DLC during the upcoming events, in accordance with DLC's commitment to protection of privacy.


FAQs
What is your cancellation policy?
Attendees can receive refunds up to 30 days before the event start date.
How can I contact the organizer with any questions?
Please email info@dalailamacenter.org
Can I register for just one day of the conference?
Unfortunately due to the nature of the program we are not able to offer a 1 day registration option.
What are my parking options at the conference?
There will be free parking available at both venues.
I have special dietary needs. Who do I inform?
At point of purchase you will be asked to indicate your dietary requirements.