Description
Our heart is an incredible organ that has been studied extensively, and been an inspiration for much art and literature. Learn about our hearts, and create your own felted heart patch that you can wear on your sleeve with Anatomy Professor Claudia Krebs and Textile Artist Emily Smith at this workshop.
This event is part of the Interstitial: Science Innovations by Canadian Women art exhibition from June 8 to June 21. What does it take for a woman to be "in" with the science community?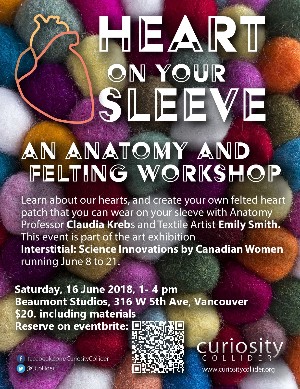 Emily Smith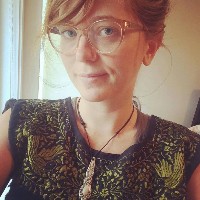 Educator, producer, researcher, textile artist and hands-on learning advocate Emily Smith loves to share knowledge, whether through workshops, art, events or demonstrations. She's passionate about the cultural shift the Maker Movement is bringing about and has devoted her time to fostering environments that encourage learning by making. Emily has participated in the maker community since 2010 and is the cofounder of the Vancouver Mini Maker Faire, founder of the Vancouver Fibreshed Community, and currently building "Maker Clubs" in schools throughout BC in partnership with the Industry Training Authority. She has hosted youth mentorship programs, ladies' hacking nights, circuit bending events at VIVO Media Arts Centre.
You can follow her on Instagram @randomactsofmaking
Claudia Krebs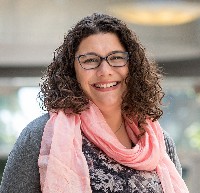 Dr. Krebs has been teaching neuroanatomy and gross anatomy at UBC for over a decade. During this time she has worked on the integration of technology and novel visual approaches to the classroom. She has received numerous teaching awards, both from her students and her peers at UBC, and nationally. Together with anatomy educators from across campus at UBC and from partner universities she is creating open educational resources for neuroscience and anatomy for the global community; including video, e-books, and interactive web materials. Dr. Krebs and her colleagues have just published the second edition of a neuroscience textbook.