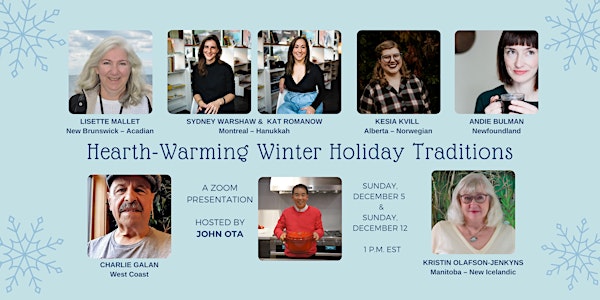 Hearth-Warming Holiday Traditions
CHC member and author John Ota talks to 6 Canadians from 6 different provinces about their favourite holiday traditions, memories and foods.
Refund Policy
Contact the organizer to request a refund.
About this event
Get yourself in a festive mood by learning about different holiday traditions from across Canada. These speakers, representing 6 different Canadian provinces, will talk about some of the foods that make their holiday tables special. Hosted by CHC member and author, John Ota, this event will fall over 2 subsequent Sundays, with three presentations per day. A full schedule is listed below.
After hearing what they're cooking up, maybe you'll start a new holiday tradition of your own!
Tickets are $10 for CHC Members and $17.50 for non-members. Buy both dates together and save money on your ticket price: $17 for both events for CHC Members and $30 for non-members
Episode 1: Sunday December 5, 1-2pm EST
Chef, writer, comedian and CBC contributor Andie Bulman of St, John's, Newfoundland talks about what makes fruitcake a favourite on the East Coast
Jewish food historians and CHC members Kat Romanov and Sydney Warshaw will dive into Hanukkah traditions in Montreal
Cookbook collector and Historian Charlie Galan discussed what makes a West Coast holiday different, with the culture, traditions and foods of Vancouver Island
Episode 2: Sunday, December 12, 1-2pm EST
Learn from PhD Candidate in WWI foodways, Kesia Kvill about how lefse, rosettes, and lutefisk are intermingled with traditional Anglo-Canadian food items on a Norwegian-Albertan holiday table
Gingerbread the size of a baby and meat pies, not tourtières! Acadians spend a lot of time in the kitchen during the holidays, because some things just can't be hurried nor skipped. CHC member Lisette Mallet, president of the Société d'histoire de Toronto (Toronto Historical Association) will shine a light on these traditions
Kristin Olafson-Jenkyns, author of The Culinary Saga of New Iceland: Recipes From the Shores of Lake Winnipeg will be telling us all about the Christmas foods of Icelandic emigrants, as they sought to use food to preserve ties with their homeland