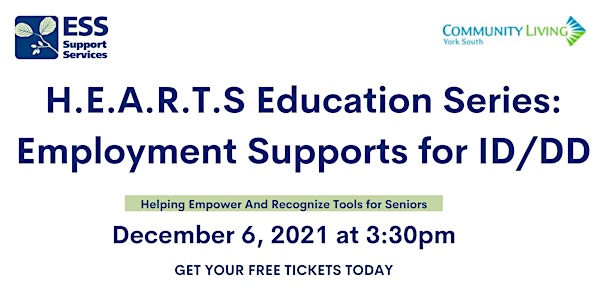 H.E.A.R.T.S Education Series: December Employment Supports for ID/DD
Join us for a FREE Workshop Educational Series on various topics for caregivers of dependents with developmental/intellectual disabilities.
About this event
ESS Support Services is proud to present the H.E.A.R.T.S Education Series in collaboration with Community Living York South. For the months of October, November, and December, different guest speakers will present on various topics in regards to caring for an individual with developmental or intellectual disabilities.
This month, we are happy to host Greg Visilkioti and Glenn Ip from JVS Toronto to speak about the current job market, services and supports for individuals with developmental disabilities, and placement supports. Please come ready with any questions you may have as it is an open Q and A session!
We hope to see you online!
For any questions, please contact cleung@esssupportservices.ca
Organizer of H.E.A.R.T.S Education Series: December Employment Supports for ID/DD