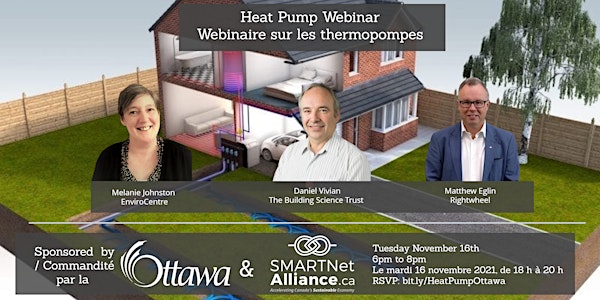 Heat Pump Webinar / Webinaire sur les thermopompes
Heat Pump Webinar / Webinaire sur les thermopompes
About this event
Join us for the continuation of the Home Retrofit Webinar Series sponsored by The City of Ottawa and SMARTNet Alliance. For this edition will be commemorating the launch of the Better Homes Ottawa Website and then we will delve deep into a renewable technology that everyone is talking about: Heat Pumps.
First off we welcome Melanie Johnston from EnviroCentre to give us a tour of the new Better Homes Ottawa website. Melanie will go over some of the website's tools and detail the various portals and links throughout the site. This page has been built to help the homeowner on the journey of their energy efficient home retrofit. Get a first hand glimpse of some of the tools and resources available on the page.
Next up we talk heat pumps with two very knowledgeable presenters. First up we welcome SMARTNet Alliance Member Daniel Vivian of The Building Science Trust for an overview on Heat Pumps. Heat pumps are all the rage and will be a serious tool in the battle against climate change. Technological advances have allowed heat pumps to be installed in cold weather climates like Canada and have represented serious payback not only in folks' carbon budget but also their pocketbook. Daniel will explain the ins and outs of heat pumps, what you need to consider before installing one and how when combined with air conditioning considerations they can be a wiser choice than natural gas furnaces.
Following Daniel we have Matthew Eglin, long time green energy advocate. Matthew will be talking about small heat pumps in the home and where heat pumps can help save energy. He has a lot of experience on the residential front with recent projects at his new home in Picton. He will share his journey with heat pumps along with first hand lessons learned which includes his recent experiences installing the whole house Mitsubishi Zuba system.
After these presentations be sure to stick around to hear from The City of Ottawa's Janice Ashworth on the latest updates on the Better Home Loan Program which is launching in Ottawa this fall. We will also have a representative from Envari on hand who will be speaking about their work with heat pumps along with a bulk buying program you may be eligible for.
If you are interested in energy efficiency and are thinking about a deep home retrofit of your own you won't want to miss this session which happens Tuesday November 16th starting at 6pm. Register now to hold your spot and receive the link to join us on Zoom.
Speaker Bios:
Melanie Johnston is the Energy Programs Director at EnviroCentre and has been with EnviroCentre since 2009. She's been instrumental in the development and delivery of EnviroCentre's energy efficiency programs. She has assisted with the development and implementation of training for over 40 Energy Advisors and 10+ retrofit contractors. In addition, Melanie has worked with multiple social housing providers to educate them on the values of retrofitting older building stock, as well as delivered numerous presentations on this subject to Ottawa residents, businesses and partners.
Matthew Eglin is a technology consultant. Matthew is also a Climate Reality Leader (LA, 2018) and is working to #StopBurningStuff. Matthew has served on the board of EVCO for the last 4 years. Matthew recently moved to a 19th Century house in Picton and are working to update the house and its systems, this seems to involve money and many cans of spray foam.
Daniel Vivian P.Eng. is a mechanical engineer with over 35 years of engineering experience with the last 20 years focused on Building Science Consulting (capital planning and energy conservation). He is the founder of The Building Science Trust which is a business dedicated to helping home and building owners reduce their environmental impact by preparing plans to move off fossil fuels as efficiently as possible.
Janice Ashworth currently works as a Project Manager on the City of Ottawa's Climate Change Team where she focuses on the existing building programs and financing solutions. She was the founding General Manager of both the Ottawa Renewable Energy Co-op and CoEnergy Co-op where she was responsible for business development of solar and retrofit projects, management, and financing. In her time with the energy co-operatives, Janice was named a 40 Under 40 Business Leader and was awarded the 2017 Solar Woman of Distinction.
French Translation:
Joignez vous à nous pour la suite de la série de webinaires sur les rénovations domiciliaires organisée par la Ville d'Ottawa et SMARTNet Alliance. Dans le cadre de cette édition, nous célébrons le lancement du site Web du Programme de prêts pour la mise en valeur des habitations d'Ottawa, puis nous explorerons en profondeur une technologie d'énergie renouvelable dont tout le monde parle : les thermopompes.
Tout d'abord, nous accueillerons Melanie Johnston d'EnviroCentre, qui nous fera visiter le nouveau site Web du Programme de prêts pour la mise en valeur des habitations d'Ottawa. Melanie passera en revue certains outils du site Web et décrira en détail les divers portails et liens de l'ensemble du site. Ce site a été conçu pour aider les propriétaires dans leur parcours de rénovation en vue de l'amélioration de l'efficacité énergétique de leur maison. Vous aurez donc un premier aperçu de certains des outils et des ressources accessibles sur le site.
Ensuite, nous discuterons de thermopompes avec deux présentateurs experts en la matière. Premièrement, nous accueillerons Daniel Vivian, membre de SMARTNet Alliance et du groupe Building Science Trust, qui nous donnera un aperçu des thermopompes. Les thermopompes font fureur et elles seront un outil important dans la lutte contre les changements climatiques. Grâce aux progrès technologiques, on peut installer des thermopompes dans des endroits où le climat est froid, comme au Canada, et ces dernières produisent des avantages importants non seulement pour le budget carbone des résidents, mais également pour leur portefeuille. Daniel expliquera les particularités des thermopompes, ce dont vous devez tenir compte avant d'en installer une et comment elles peuvent être un choix plus judicieux que les générateurs d'air chaud à gaz naturel lorsqu'on prend bien en compte également les facteurs liés à la climatisation.
Après la présentation de Daniel et défenseur de longue date de l'énergie verte. Matthew parlera des petites thermopompes résidentielles et de la façon dont les thermopompes peuvent contribuer à économiser de l'énergie. Il a beaucoup d'expérience dans le domaine résidentiel, y compris des projets récents dans sa nouvelle maison, à Picton. Il fera part de son expérience avec les thermopompes ainsi que des leçons qu'il a apprises, notamment dans le cadre des travaux qu'il a faits récemment pour installer son système résidentiel Mitsubishi Zuba.
Au terme de ces présentations, restez des nôtres pour ne pas manquer la présentation de Janice Ashworth de la Ville d'Ottawa, qui donnera les derniers renseignements concernant le Programme de prêts pour la mise en valeur des habitations d'Ottawa, lequel sera lancé cet automne. Nous recevrons également un représentant d'Envari qui parlera de son travail lié aux thermopompes ainsi que d'un programme d'achat en masse auquel vous pourriez être admissible.
Si l'efficacité énergétique vous intéresse et que vous songez à une rénovation en profondeur de votre maison, ne manquez pas cette séance qui aura lieu le mardi 16 novembre, à compter de 18 h. Inscrivez vous maintenant pour réserver votre place et recevoir le lien pour vous joindre à nous sur Zoom.
Biographies des conférenciers
Melanie Johnston est directrice des programmes énergétiques au sein d'EnviroCentre, où elle travaille depuis 2009. Elle a joué un rôle crucial dans la création et le déploiement des programmes d'efficacité énergétique d'EnviroCentre. Elle a contribué à l'élaboration et à la mise en œuvre de la formation de plus de 40 conseillers en efficacité énergétique et de plus de 10 sous traitants en rénovation. De plus, Melanie a collaboré avec plusieurs fournisseurs de logements sociaux pour les informer des avantages de rénover les vieux bâtiments, en plus de faire de nombreuses présentations à ce sujet à l'intention de résidents, d'entreprises et de partenaires de la région d'Ottawa.
Matthew Eglin est conseiller en technologie et président de Rightwheel Inc. L'équipe de Rightwheel travaille à réduire les émissions de ses clients en mettant l'accent sur le transport et sur la sensibilisation à propos des émissions. Matthew est également un chef de file de la réalité climatique (Climate Reality Leader, Los Angeles, 2018) et défenseur du mouvement #StopBurningStuff (arrêtons le brûlage aux fins énergétiques). Matthew siège au conseil d'administration de l'Electric Vehicle Council of Ottawa depuis quatre ans. Son épouse Kathleen et lui ont récemment emménagé dans une maison du XIXe siècle à Picton et travaillent à la modernisation de la maison et de ses systèmes, un projet qui demande de l'argent et beaucoup de cannes de mousse isolante.
Daniel Vivian est un ingénieur en mécanique comptant plus de 35 ans d'expérience en ingénierie, dont 20 ans axés sur la consultation en sciences du bâtiment (planification des immobilisations et conservation de l'énergie). Il est le fondateur de The Building Science Trust, une entreprise qui se consacre à aider les propriétaires de maisons et de bâtiments à réduire leur incidence sur l'environnement en préparant des plans pour abandonner les combustibles fossiles le plus efficacement possible.
Janice Ashworth travaille actuellement à titre de gestionnaire de projet au sein de l'équipe des changements climatiques de la Ville d'Ottawa, où elle se concentre sur les programmes visant les bâtiments et les solutions de financement déjà en place. Elle a été la directrice générale fondatrice de la Ottawa Renewable Energy Co-op et de la Coopérative CoÉnergie, se chargeant du développement commercial de projets d'énergie solaire et de rénovation, de la gestion et du financement. Au fil de ses années au sein de coopératives énergétiques, Janice a figuré au palmarès des 40 chefs d'entreprise de moins de 40 ans; de même, elle a reçu, en 2017, le prix de la « Femme solaire de distinction ».