Héctor Acosta, El Torito, finalmente y directamente desde la Republica Dominicana se presenta en vivo con su gira 2022 Canada.
About this event
Héctor Acosta, first introduced to the tropical music world as vocalist for the famous Toros Band, first found his voice in church. As a member of the choir at San Antonio de Paula Church, Acosta discovered his love for song amid the ritual and incense.
In 1982, having sung for years only inside the walls of the church, Acosta learned of a singing competition sponsored by a local radio station. Sneaking off for the qualification rounds paid off, as he ultimately took first place. Once the doors were opened to public performance, the young talent flourished, and he participated in a number of local groups who played clubs and festivals in the surrounding area. In addition to singing, Héctor played a variety of instruments, acting as bass player for the popular Bonao band Los Gentiles.
"El Torito", como se le conoce al artista, realizará una gran fiesta con todos los éxitos de su extenso y envidiable repertorio musical, sin dejar de lado las peticiones del público, quien esta vez disfrutará de un show renovado.
"Será un concierto bailable con toda su orquesta, donde el público disfrutara al máximo, esta vez, escogimos a uno de los mejores intérpretes dominicanos de esta época como lo es Héctor Acosta El Torito, con una trayectoria musical impecable y quien goza de reconocimiento local e internacional."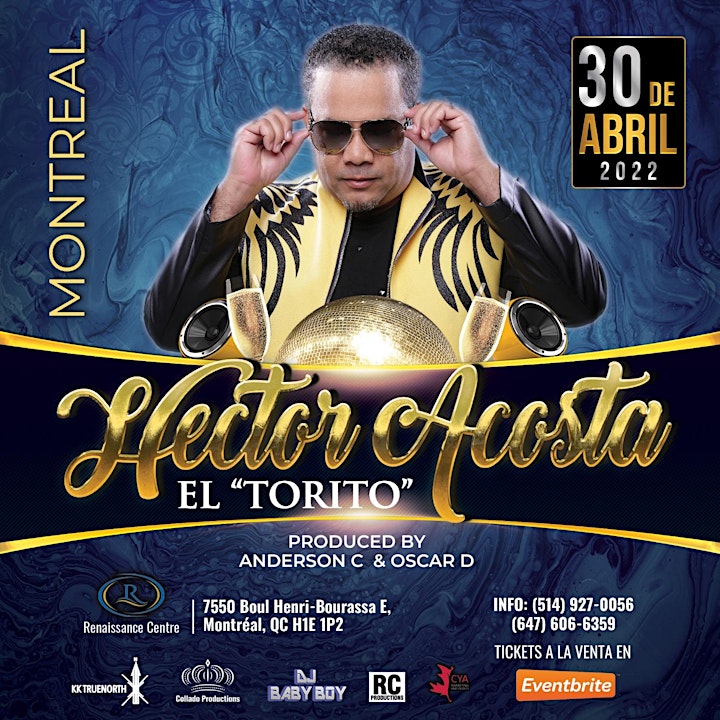 Organizer of HECTOR EL TORITO ACOSTA EN VIVO- MONTREAL