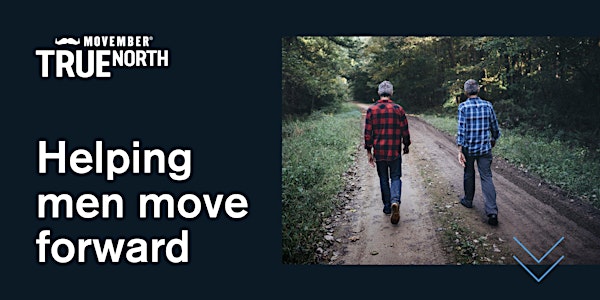 Helping Men Move Forward
Your support is helping men live happier, healthier, longer lives - join us for an intimate panel discussion on prostate cancer survivorship
About this event
Relationships. Confidence. Matters of the bedroom.Prostate cancer can impact them all, but there are ways to manage–and thanks to your support, more men can.
Our experts will talk through True North's sexual wellbeing tools – innovative, insightful technology that will help countless men better understand and manage their sexual wellbeing after prostate cancer treatment.
Moderated by Movember Canada's Country Director Todd Minerson, the panel will feature: 
- Robert Fung, Director Digital Health (Prostate Cancer) at Movember Canada 
- Dr. Andrew Matthew, Senior Psychologist at Princess Margaret Cancer Centre
- Ken Noel, president at the Walnut Foundation
We hope to see you there!