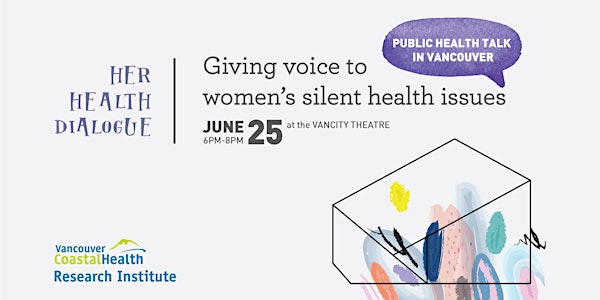 Her Health Dialogue: Giving Voice to Women's Silent Health Issues
Location
VIFF Vancity Theatre
1181 Seymour Street
Vancouver, BC V6B 3M7
Canada
Description
For decades, women's voices have not been adequately heard in health.
Vancouver Coastal Health Research Institute (VCHRI) is hosting a free public event to discuss important women's health issues, including HPV related diseases, endometriosis, pelvic pain and sexual health. Join health research experts working at the forefront of these issues and hear from a research participant about what it's like to be a partner in health research.
Doors open at 5pm for light refreshments and networking with local health organizations, who will be hosting booths with related resources and information. Health talks will begin at 6pm.
Featured Speakers and Presentations
Dr. Marette Lee - Fact and fiction: The truth about HPV and you.
Dr. Paul Yong - Bearing the unbearable: Endometriosis and pelvic pain.
Dr. Lori Brotto - Skills versus pills: What works for improving women's sex lives?
Lana Barry - Shares her patient-partner experiences of participating in health research.
Also Featuring
Pamela Fayerman - Award-winning health issues reporter hosts the evening.
Tiaré Lani Kela Jung - Graphic artist providing a live visual recording of the event presentations and discussions.
Learn more about the event programme and featured speakers.

**Limited seating available, please RSVP to confirm your attendance**
Online webcasting will also be available - more details to come!