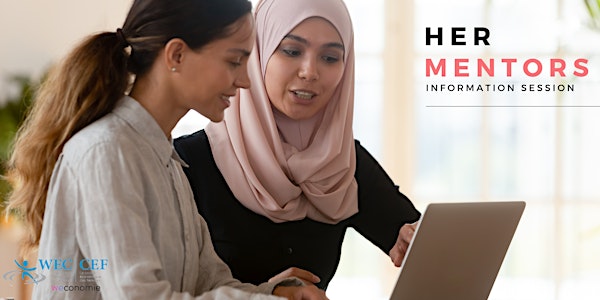 Her Mentors - Mentoring for Racialized Newcomer Women
Are you an established immigrant or Canadian born looking for opportunities to use your experience to support others? Join the info session!
About this event
The Women's Economic Council is launching Her Mentors, a research project funded by Immigration, Refugees, and Citizenship Canada. The findings resulting from this study will help better understand the needs of newcomer women in mentorship programs and how service providers can develop inclusive targeted interventions.
WEC is extending an invitation to professionals across Canada to join this project as Mentors. Entrepreneurs or established immigrants with stories of challenges and success during their employment search are welcome to apply as mentors.
During this info session you will have the opportunity to get detailed information about the project scope, role requirements and guidance on the next steps.
Some benefits for Mentors are:
Professional development experience and networking opportunities.
Satisfaction and fulfillment through helping others.
Mentoring can help enhance one's career and develop new skills.
Mentoring Training based on best practices, including the introduction to anti-racist, trauma informed and gender based approaches.
Resources and ongoing support.
Requirements to join as a MENTOR:
Interested in accompanying mentees in their journey of employment/self-employment.
Come from a professional background and have the willingness to share.
Available to commit to 20-24 hours over 6 months.
Understanding of language barriers and cultural differences.
Mentorship is a rewarding, fulfilling experience that offers personal growth. It's not just about doing good deeds or giving back but having an impact on another person's life and helping them achieve success at their ambitions. The greatest reward of all comes when you can see firsthand how your influence changes someone for years after they've left your side.
Questions? Email us at: marialejandra@womenseconomiccouncil.ca