About this Event
With our modern lifestyles, the body can take on a tremendous amounts of stress. While our bodies are able to handle this stress, it's the continual burden of stress that causes a negative impact on our well-being. This is one area where the magic and nourishment of herbal tea can come to the rescue.
The ritual of drinking herbal tea is an excellent way to tune into the rhythms of the body. Sipping a cup of tea allows us to pause for a moment and let stillness nourish our mind, body, and spirit. This can, in turn, provide a moment that we can look forward to each day — a moment where our minds let go of the responsibilities of the day, and instead, focus on the process of preparing and enjoying a cup of herbal tea all the while supporting the body and nourishing a variety of our systems and organs.
Each "Tea Talk and Tasting" will feature a unique flavour in both taste and content! Topics will include (but are not limited to):
- Herbal Immune Boost
- Naturally Taming the Menstrual Madness
- Adrenal Fatigue Fixes
- Herbs and Oils for Managing Anxiety
- Herbalism for the Littles: Children and Natural Health Supports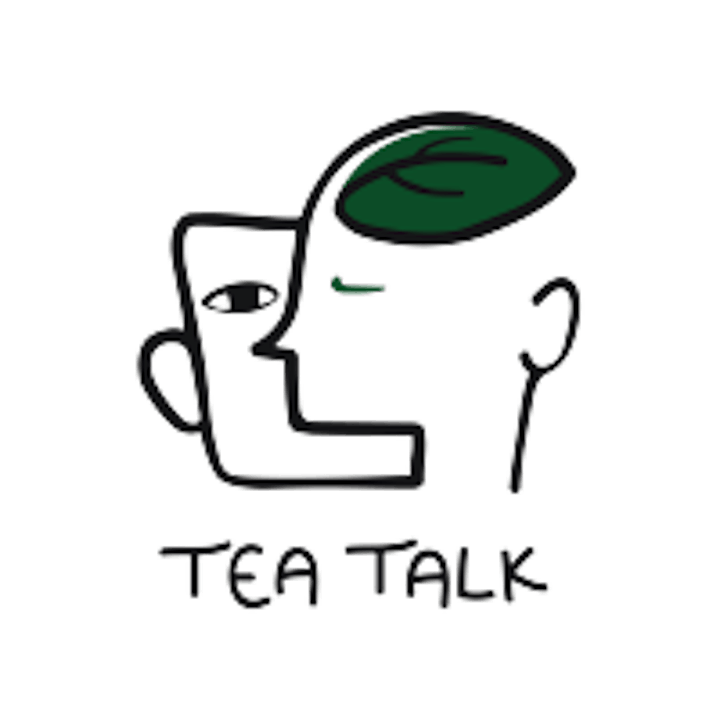 Come join us for a one hour talk on herbal health, using herbal teas at home, and the specific herbs on topic for the day, along with the joy and fulfilment that comes from community, wellness and self-care!
The following hour will be a sensory delight as you get up close and personal to the individual herbs and in some cases essential oils and botanicals, that have been discussed! You will have the chance to have all your questions answered as you sip a tea and enjoy some social time in a community of others interested in pursuing natural health options!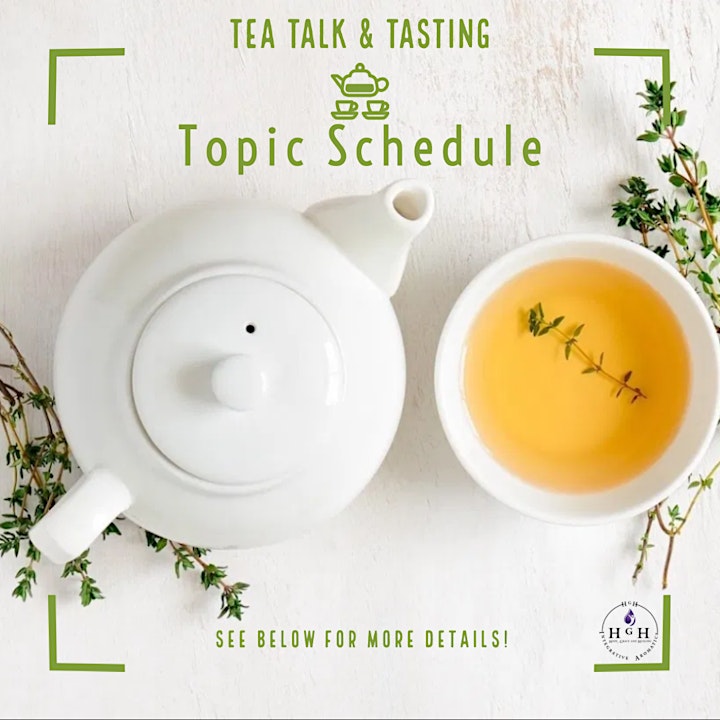 March 16th, 2020 - Taming the Menstrual Madness
March 30th, 2020 - Herbs for Fibromyalgia and Chronic Illness Symptom Support
April 20th, 2020 - Herbals for Immune Health and Self Protection: Natural Antivirals and Antibacterials for Everyday Personal Protection
April 27th, 2020 - Herbals for Littles: Children and Herbal Safety
May 11th, 2020 - Taming the Menopause Madness: Wisdom and Wellness to Welcome The Change
May 25th, 2020 - Herbs for Adrenal Health: Balancing the Cortisol Overload
** More Dates and Topics Will be Added on a Regular Basis - If there is something of interest to you, let me know **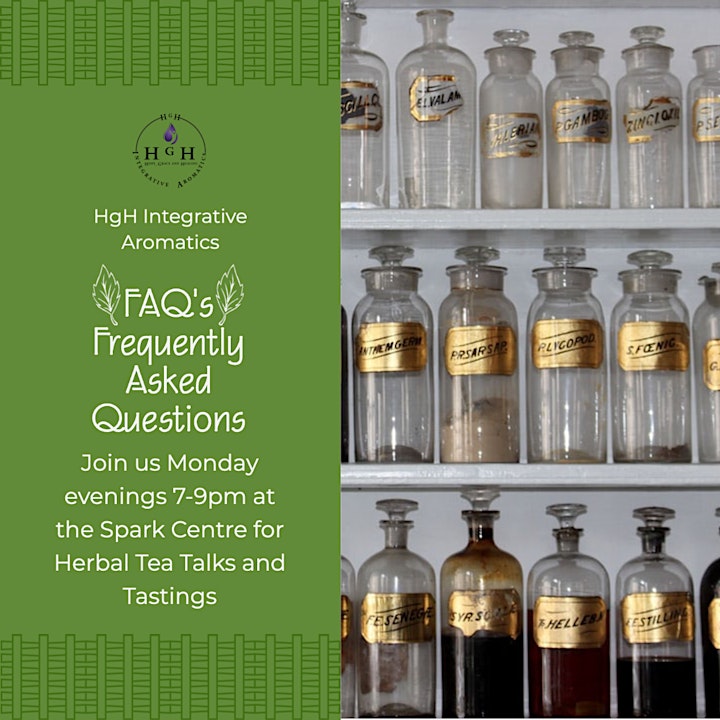 HGH INTEGRATIVE AROMATICS FAQ's
What is a therapeutic or a "medicinal" tea and how are they different from a regular herbal tea?
While sipping tea is primarily for the enjoyment it offers, therapeutic or healing teas are taken for the subtle alterations in body chemistry they provide, bring the internal systems back into balance, supporting the body while they hasten healing.  They can cleanse and detoxify, alleviate pain, reduce fever, induce sweating, boost the defensive forces of the body, fight infection, sweeten a sour stomach, calm a disturbed intestinal tract, expel worms, cure scurvy, ease involuntary spasm, stem hemorrhage (both internally and externally), strengthen and stabilize a faulty heart, increase the discharge of urine, cause vomiting, induce coughing to bring up phlegm, dissolve blockages, support a tired liver, calm the nerves, help with a difficult childbirth, even put you to sleep or wake you up.  Therapeutic teas are traditionally brewed from herbs and other natural medicinals found in nature's pharmacy. HgH Integrative Aromatics offers several therapeutic teas  – cleansing teas, digestive teas, flu & cold relief teas, headache teas, foundational nutritive teas, pregnancy teas, stress and anxiety relief teas, vitality teas and various women's health teas.
Medicinal teas are prepared in slightly different ways to encourage the separation of the medicinal components from the plant material. These highly effective medicinals then become nutritive additives to your constitution as you sip your tea, helping to support the complex systems and organs of the body, encouraging Whole Wellness through balance and targeted support.
Does HgH Integrative Aromatics offer anything to help with digestive problems?
One of our most popular teas is our Tummy Tamer Tea. The four herbs in this blend help to relieve and heal digestive problems; lemon balm, linden, meadowsweet and peppermint. To read more about the healing properties of each herb go to our Medicinal Herbs page. This blend is delicious either hot or cold and really eases stomach discomfort quickly.
I get headaches..... often! Is there an herbal alternative to Advil or Tylenol?
Yes, we offer three headache supports. Our therapeutic Pounder Tea and our custom brewed Headache Tincture , contain the same ingredients – meadowsweet, passion flower, chamomile, feverfew and rosemary. They are especially effective when taken regularly as a preventative, to help keep the headaches at bay. Our Pound-Away Roller contains peppermint and lavender essential oils, grapeseed carrier oil and therapeutic menthol crystals. It is used topically and helps to reduce anxiety and alleviate pain. Caution: Avoid during pregnancy. Avoid with epilepsy or auto-immune disease.
Are there any herbal supports for the symptoms of menopause?
Yes, we offer several different products that alleviate the symptoms of menopause. Our custom brewed Black Cohosh Tincture and/or Passion Flower Tincture help to relieve stress and to alleviate hot flashes and night sweats. Red Clover Tea and Red Clover Tincture are excellent overall tonics and blood purifier. Many of our customers find that they alleviate hot flashes and night sweats as well.  Clinical studies stress that herbal preparations including medicinal teas have a significant effect on the balancing of female hormones and helping to relieve a variety of menopausal symptoms including hot flashes, night sweats, brain fog and general irritability.
Additionally, HgH Integrative Aromatics offers a regular Menopause tea group for women seeking natural health management for the symptoms of menopause as well as craving community and understanding in a room filled with others that are in the same transition period. You will be able to find details and upcoming dates for our Spring/Summer schedule on our Eventbrite page at https://HgHIntegrativeAromatics.eventbrite.ca.
Are there herbs that are safe to use with children?
Herbs and kids go together like two peas in a pod, with many lovely, gentle herbs that children readily respond to. These botanicals can be used to not only bring aid to little ones during times of illness but also to inspire children with the wonders of nature and the plant world.
If we want to use herbs with a child for health reasons or for play, knowing how to find and use safe herbs for kids is of the utmost importance. When choosing which plant to use with your child, it is important to do your homework. Speak with a trusted herbalist for safety information regarding what plants at what dosages are safe for "Littles".
These plants act like a nutritive food in the body and indeed the herbal assistance that comes from nourishing herbs is through their ability to offer high amounts of vitamins, minerals, and other phytochemicals that are easily absorbed.
Boost the nutrient content of your food by adding these plants to foods such as salads, soups, and casseroles. They also make wonderful teas (including Iced Teas) and infusions which can then be used to make kid-friendly herbal treats such as ice pops, smoothies, and even jello!
Examples of nourishing plants include:
Nettle (Urtica dioica), dry or cook before using
Oatstraw (Avena sativa)
Raspberry (Rubus idaeus)
Alfalfa (Medicago sativa)
Dandelion (Taraxacum officinale)
Seaweeds
Marshmallow (Althaea officinalis)
Rose Hips (Rosa species)
Violet (Viola odorata)
Is it safe to use herbs while you're pregnant?
Unless you are under the care of a knowledgeable Herbalist or Integrative Practitioner, it is unadvisable to use any herbs during pregnancy.  Health Canada currently recognizes SIX herbs that can safely be consumed as teas during pregnancy.  They are:
Ginger
Lemon balm
Linden flower*
Orange peel
Citrus peel
Rose hip
*Not for use in women with a pre-existing heart condition
The issue with the use of herbs during pregnancy is the lack of safety information. It is unethical to do product safety studies in pregnant women so few of these studies exist.  We need to rely on other types of information in determining the safety of herbs during pregnancy.
Herbs that are considered safe in pregnancy are those that:
Have a long safety record of traditional use in pregnancy
Are free of poisonous and toxic biochemical components
Do not cause uterine contractions
Do not alter blood flow to the uterus
Do not lead to birth defects
Do not cause nutrient deficiencies that could negatively impact pregnancy
Have no actions that could be harmful to either a pregnant woman or her fetus (i.e. laxative, sedative, purgative, etc.)
The safest way to traverse the use of herbals during pregnancy is to schedule an appointment with a trusted Herbalist.
Are there herbal remedies for fibromyalgia, chronic fatigue, arthritis and other chronic illnesses?
Herbs, although a wonderful support for chronic illness, cannot be used to cure or treat disease. They can offer symptom management, comfort, ease tension, ease pain, and bring balance to the body along with a long list of other ways that they can enhance everyday wellness and improve quality of life. Herbalists cannot diagnose- we can only help to educate our clients about the ways herbs can be used to support wellbeing.
The complexity and subtlety of herbs make them a valuable addition to holistic wellness toolkit, especially if we take the time to approach them as part of a framework that considers the whole wellness (body, mind and spirit) and not simply the experience of illness itself.
What is the shelf-life of your HgH Integrative Aromatics teas?
Our products are natural and in many instances certified organic. When preservatives are required for a formula, only natural preservatives are used. Without the addition of chemical preservatives, shelf-life can be somewhat limited:
Tea Blends will retain their herbal properties for up to 2 years if stored properly. Store away from direct heat and light, preferably in a glass jar.
Therapeutic Salves & Oils, which contain natural oils generally last about 9 - 12 months. The addition of essential oil help to retain them, but if you are not planning on using the product within this timeframe, we recommend refrigeration to extend shelf-life.
Face & Body Products generally last for about 1 year. Again, refrigeration is recommended to extend shelf-life beyond this time period.
Bath Care – Our Bath Salts and Milk Baths, if stored properly with a sealed lid, will retain freshness for approximately 1 year. Scrubs, due to oil content, last about 9 - 12 months.
Does HgH Integrative Aromatics offer custom consultations and blending?
HgH Integrative Aromatics invites you to experience customized blends for your everyday wellness. We begin the journey together with a 2.5 hour Initial Herbal Consultation. Only 1 hr of this is between the client and the herbalist, with the remaining 1.5 hrs being spent by the Herbalist creating a Whole Wellness Plan for you specifically. This WWP is forwarded directly to the client within 3 days of the consultation and includes recommendations for a variety of herbal, aromatic and botanical supports. The next step is the clients selection of application and use, followed by the Herbalist custom brewing herbal goodness for the client. Delivery is arranged and monthly follow up is recommended for continued support and formula adjustments as the client reaches wellness goals and sets new one. The cost for an Initial Herbal Consultation is $120 + GST and Follow Ups are $45 + GST and are generally about 40 minutes long. Herbal preparations are not included in these prices as each herb, essential oil and botanical is uniquely priced. We also carry a wide range of eCards for Gifting!
What are your qualifications for recommending herbs to people?
Among a long list of post-secondary achievements, TracyAnn Schuur the Founder and CEO of HgH Integrative Aromatics and Kitchen Witch Botanicals Brewery is a Certified Aromatherapist, Herbalist and Botanical Chemist/Formulator. Her schooling includes New York Institute of Aromatic Sciences, Essence of Thyme College of Holistic Studies and The Herbal Academy.
All of her post secondary programs, electives and annual continuing education can be viewed on her website at www.hopegraceandhealing.com.