HerChats at Hervana: Learning to Listen – Tuning in to Support Your Body
Description
---
Hervana Coworking Collective

We believe in the power of sharing knowledge and leveraging a community to uplift us in business and in life.
HerChats at Hervana is a monthly breakfast club, each month we bring a special guest to Hervana to share their knowledge with you.
Bring your questions for the guest, bring your business cards for the community, bring your positive bad ass entrepreneur attitude to be celebrated.
---
January 30th we are excited to introduce you to Andrea Zimmering, Certified Holistic Nutritionist.
She'll be leading a conversation on stress, tuning into your body and fueling yourself through nutrition.
"When you are a women entrepreneur, it is pedal to the metal. The trouble is when you are going full speed, you are setting yourself up for a crash that will bring you to a full-stop. Learning to understand and trust your body is key when becoming a successful entrepreneur so that you can cruise along, with the sunroof open, and no big accidents to slow you down."
Learn about the impact that stress has on our bodies




Discover what is getting in the way of you listening to your body




Learn tools to use to know how to tune into your body's nutritional needs




Gain the confidence to trust what your body is tell you
---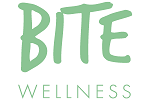 Andrea Zimmering is a Certified Holistic Nutritionist and founder of Bite Wellness Consulting.
Andrea founded Bite Wellness with the intention to help individuals achieve their version of health, one that supports their ability to take pleasure out of and engage fully in life. Through education, simple tools, and most importantly fun, Andrea strives to empower people to get in touch with and trust their body so that they are able to nourish themselves for the long-run.