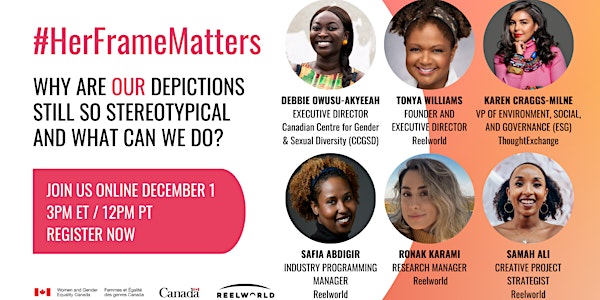 #HERFRAMEMATTERS: Racialized Women in Canadian Media
Join the conversation #HERFRAMEMATTERS and learn more about the research from the team behind the Reelworld protocol guideline project
About this event
YouTube Link: https://www.youtube.com/watch?v=dHbA4DdOcSU&feature=youtu.be
Earlier this year, Reelworld began an intensive research study to create a protocol guideline for broadcasters and producers to understand why on-screen depictions of Indigenous, Black, Asian and Women of Colour are still so stereotypical and how they contribute to the perpetuation of negative stereotypes in society.
We invite the screen industry to attend a panel discussion that presents some of our initial findings, and also explores the issue from various angles. We will address how negative on-screen portrayals have real-life consequences, such as increased violence and abuse towards racialized women; how colourism in the industry further perpetuates prejudice against dark-skinned women; and the vital role that casting directors and agents must play in the creative process to ensure authentic and respectful representation of characters on screen.
Join us for this virtual panel on December 1 at 3pm ET and lend your voice to the conversation.
PANELISTS:
KAREN CRAGGS-MILNE, VP of ESG (Environment, Social and Governance) and former Head of Anti-Racism, Diversity, Equity & Inclusion at ThoughtExchange
A leading global expert, Karen brings 20 years of experience working with governments, corporations and NGOs to address social justice issues across multiple sectors. She is Certified professional in the fields of Sustainability (ESG), Anti-Racism, Diversity, Equity Inclusion and Decolonization. Karen believes that good intentions are not enough. She created and teaches the Conscious Equality Framework - a holistic approach to addressing these issues effectively.
DEBBIE OWUSU-AKYEEAH, Executive Director at The Canadian Centre for Gender & Sexual Diversity (CCGSD)
Debbie Owusu-Akyeeah is an award-winning Black feminist with over 8 years of local and international advocacy experience through feminist initiatives in the Ottawa-Gatineau region and through working at Oxfam Canada and Global Affairs Canada. She became the Executive Director at the Canadian Centre for Gender and Sexual Diversity (CCGSD) in July 2020. The Centre is a youth-focused organization that promotes diversity in gender identity, gender expression, and romantic/sexual orientation in all its forms on a national level through services in the areas of education and advocacy.
TONYA WILLIAMS, Founder and ED, Reelworld
Tonya Williams is an award winning actress and producer who has worked in the entertainment industry for the last forty-five years in Canada and the USA. She is best known for her nineteen years starring on the daytime drama The Young & The Restless as Dr. Olivia Winters. She is also the founder and executive director of Reelworld. Tonya currently sits on a number of boards including The Black Academy, Canadian Senior Artists Resource Network, is a founder and board member of the Black Screen Office. She has won numerous awards including two NAACP Image Awards, ACTRA Award of Excellence, WIFT Crystal Award, the Harry Jerome Award and two Emmy nominations.
SAFIA ABDIGIR, Industry Programming Manager, Reelworld
Safia is the Industry Programming Manager at Reelworld. As an arts culture worker, she is specifically interested in the facilitation of diverse perspectives in the Canadian film industry, including 2SLGBTQ+ and racialized identities. As the Industry Programming Manager, Safia works to realize Reelworld's aim of creating the necessary infrastructure to support Indigenous artists and artists of colour through our programming, presentation, and professional development initiatives.
RONAK KARAMI, Research Manager, Reelworld
Experienced researcher with a demonstrated history of working in different communities and nonprofit organizations. I hold a BA in English from the University of Isfahan and an MA in Gender and Social Justice from McMaster University. I began my academic career by working on gender norms presented through live-action puppet movies for children and school textbooks in Iran. Currently, as a research manager at Reelworld, I am focused on the power of (digital) storytelling and the positive distribution of authority and voices. As a PhD student in the School of Social Work at McGill, I am focused on the ways in which trauma-informed responses come about to the survivors of domestic violence who reside in gender-specific shelters.
MODERATOR:
SAMAH ALI, Creative Project Strategist, Reelworld
Samah Ali is the Creative Projects Strategist for #HERFRAMEMATTERS Research. A lover of documentaries, she currently programs for Academy Award qualifying festivals Seattle International Film Festival, DOC NYC, and Hot Docs Film Festival. After running her startup Sisterhood Media for five years, she now sits on the Board of Directors at The Black Screen Office and Future of Film Showcase. You can interact with her on Twitter @sistersamah.