Description
The Heritage Club Games West Vancouver 2020 are supported this year by Hollyburn Sailing Club, West Vancouver FC (Soccer), West Vancouver Track and Field Club and Floorball Hockey in partnership with West Vancouver Sports Alliance. The games will be held on Friday, June 12, 2020, 12.00noon-5.00pm in the Ambleside area of beautiful West Vancouver.
This is a unique opportunity to get friends together and enjoy the camaraderie, laughter and fun that come from competitive creative games!

The day's enjoyment will benefit two wonderful local organizations as ticket revenues are being donated to the West Vancouver Foundation and Athletics4Kids - what could possibly be more fun and more worthwhile?
Join us and experience fun games hosted by each club including; Javelin Throwing, Floor Ball, Boat Bailing Challenge, Paddleboarding and challenge your inner Ronaldo with some Soccer Skills fun.
$200 (team of 4 people) with the option to add upto 6 people ($20 extra per person).
12noon Registration and refreshments
1.00pm The Games Begin;
Soccer fun hosted by West Van FC (Soccer) (celebrating its 100th Anniversary)

Floorball (hockey) - the fastest growing team sport in the World hosted by Floorball Plus

Javelin Throw at Ambleside Park hosted by West Van Track & Field Club

The fun of sailing brought ashore by Hollyburn Sailing Club with their Boat Bailing Challenge

Paddleboarding fun hosted by Oceans Ambassadors (boards & dry suits provided)
4.00pm Games Finish. Make your way back to the Ambleside Boat Shed for awards and prizes, then stay and mingle with more food and drinks available.

Please do circulate this email/poster to all your members, family, friends, colleagues … you won't want to miss this!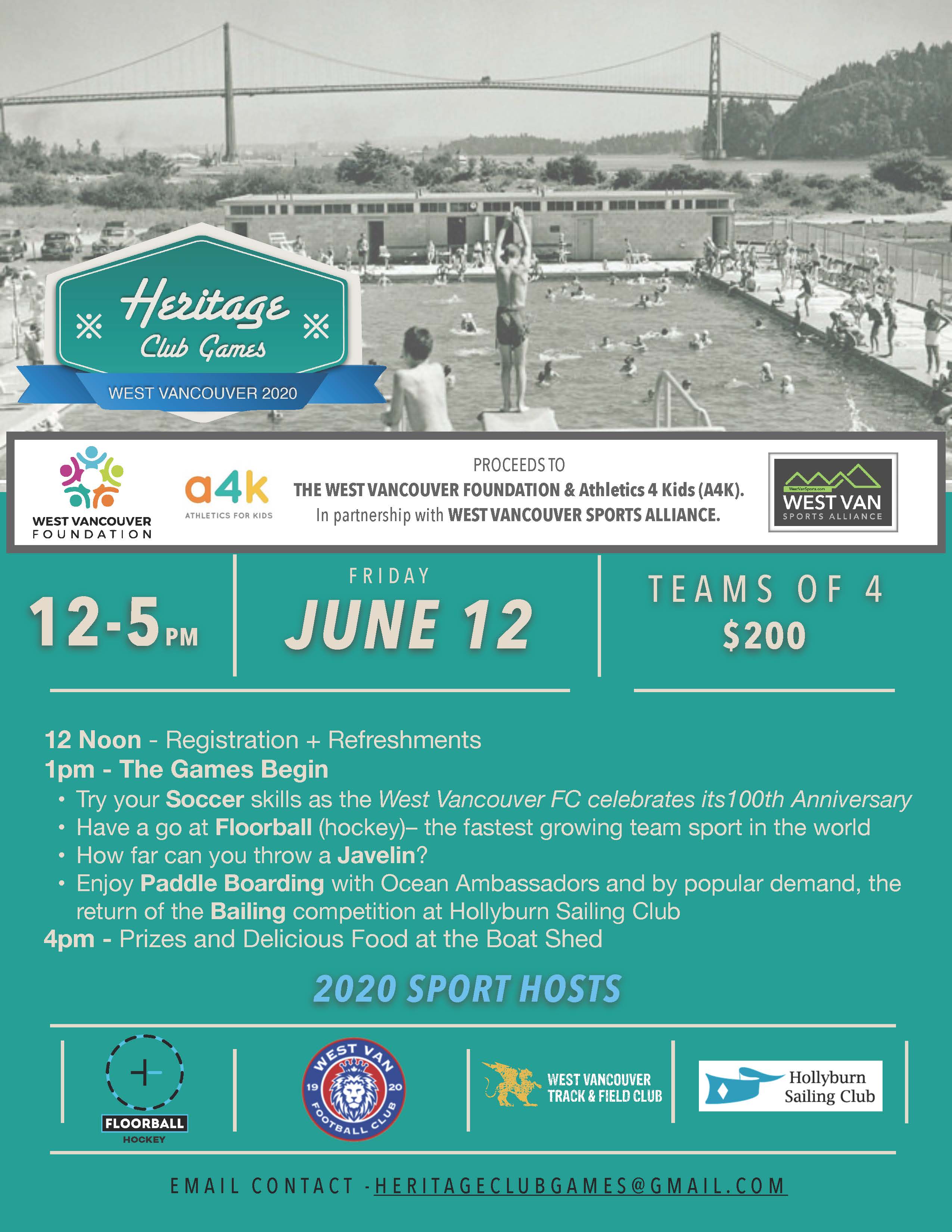 FAQs
Are there ID or minimum age requirements to enter the event?
All ages welcome. Children aged 8-18 years of age need to be accompanied by an adult.
Can I bring my pet to the event?
Sadly we cannot accommodate pets at the event for liability reasons and food hygiene.
Do I have to take part in all the activities?
No, 4 people minimum need to be registered for a team and take part in all the activities to earn points which may mean prizes! If registering 5 or 6 people ($20 extra per person), you can mix and match who wants to do what activities. We know somepeople may not want to get wet!!
You mention Paddleboarding and a Boat Bailing Challenge - will I get wet?

Yes potentially, we are hopeful to have drysuits to minimize this. Our boat bailing challenge fun can involve getting wet if you are an enthusiastic and competitive team, so we suggest you have some spare clothes, but with the sun shining down on us (we hope), you'll soon dry out. Hollyburn Sailing Club and the washrooms at Ambleside are both available for changing.
Do I need to bring my own sports equipment?
No, we will provide.
How can I contact the organizer with any questions?
Contact us by email at: heritageclubgames@gmail.com
What's the refund policy?
The event will go ahead rain or shine. Entrance fees are non-refundable.
What should I wear?
You will need flat shoes - sneakers are ideal and come dressed to feel comfortable, sports wear works. Remember to wear sunscreen and a hat is recommended.