Virtual Community Meeting
About this event
Virtual Community Meeting
Please join us for a virtual community meeting as we discuss the ongoing work to study part of downtown Stouffville for potential designation as a heritage conservation district.
The meeting will be a chance to hear about recent work that the project team has undertaken, as well as to get an update on what steps remain as the project continues to unfold. Hope to 'see' you there!
About the Heritage Conservation District Study
The Town of Whitchurch-Stouffville has initiated a heritage conservation district study for Stouffville under Part V of the Ontario Heritage Act. The study area includes the historic core of the village and some adjacent areas, as shown below.
The Town has retained the consultant team of MHBC Planning, George Robb Architect and Wendy Shearer Landscape Architect to undertake this project.
What is a heritage conservation district (HCD)?
A heritage conservation district is a collection of heritage resources that have a special character or association. Once created, municipalities can manage and guide future change in the area through adoption of a district plan with policies and guidelines for conservation, protection and enhancement of the area's special character.
How to establish a Heritage Conservation District (HCD)
The process to establish a HCD is carried out in two phases:
The first phase is the HCD Study, which entails an analysis of the cultural heritage significance of the study area to determine if it, or a portion of it, should be a HCD.
This work involves researching the development of Stouffville and inventorying the properties, streetscapes and open spaces of the study area. This information will be compiled into a HCD Study Report, which will recommend a heritage conservation district boundary (if appropriate) for consideration by Whitchurch-Stouffville Council.
If Council endorses the HCD Study recommendations it would initiate the creation of a HCD Plan and Guidelines which would be the second phase. Developed through further community consultation, the HCD Plan would provide detailed implementation information to guide future conservation and development activities within the district.
Visit cometogetherws.ca/heritage to learn more about the Heritage Conservation District Study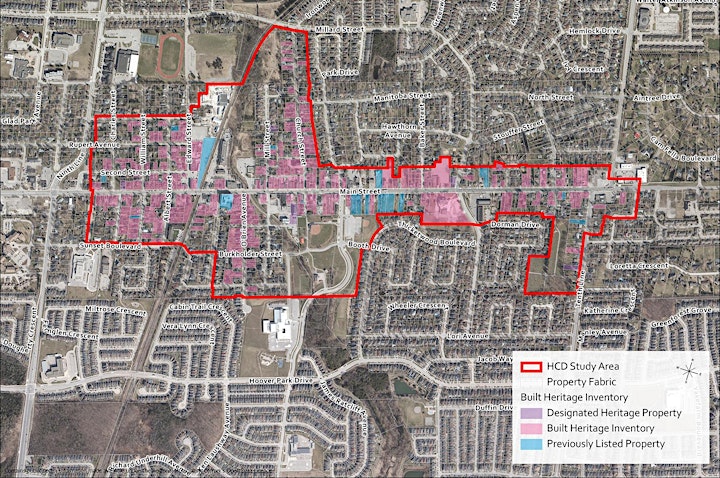 Organizer of Heritage Conservation District Study Virtual Community Meeting