Sales Have Ended
Registrations are closed
Thank you for your interest - registration for the 2021 Heritage Scavenger Hunt has ended.
Sales Have Ended
Registrations are closed
Thank you for your interest - registration for the 2021 Heritage Scavenger Hunt has ended.
Get outside and explore Archaeology and Heritage sites around London with the Museum of Ontario Archaeology's Heritage Scavenger Hunt!
About this event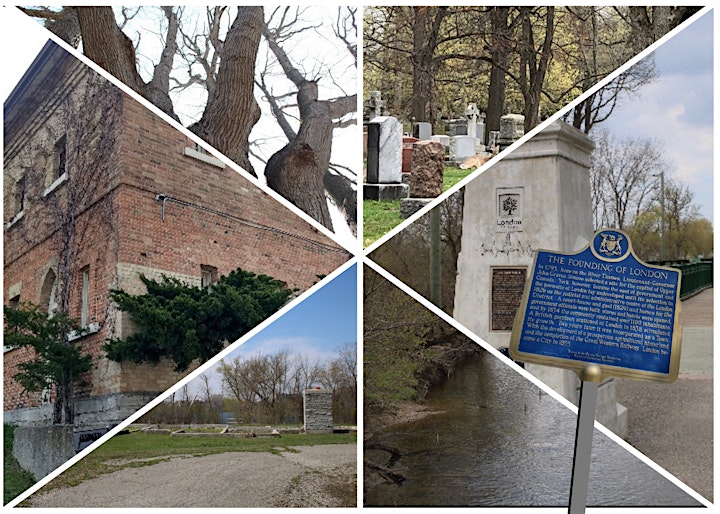 The Museum of Ontario Archaeology is hosting our first Heritage Scavenger Hunt! A week-long outdoor adventure exploring archaeological heritage at 10 locations across London.
Grab a Team of up to 5 friends or family members, and join the quest!
OFFICIAL RULES
This Contest is sponsored by the Museum of Ontario Archaeology (the "MOA"). No purchase or payment is necessary to participate.
These Rules and Regulations ("Official Rules") detail the requirements, rules, regulations, processes, and prizes for the event called "The Museum of Ontario Archaeology Heritage Scavenger Hunt 2021" ("Heritage Scavenger Hunt") managed by the Museum of Ontario Archaeology. Participants in the Heritage Scavenger Hunt ("Participants") agree to abide by all Official Rules.
Eligibility
The Contest is open to legal residents of Ontario who have participated in the "Heritage Scavenger Hunt" during the Contest Period ("Participants"). Participants who have not reached the age of majority in their province or territory of residence must have permission of a parent or legal guardian.
Employees of the MOA or any of its affiliates, subsidiaries, parent or related companies or a member of the immediate family or household of any such employee are not eligible to enter the Contest. The expression "immediate family" means spouse, parents, siblings, and children.
Contest Period
The Museum of Ontario Archaeology's "Heritage Scavenger Hunt" contest (the "Contest") runs from August 27, 2021 at 8:00 AM (EST) to September 6, 2021 at 11:59 PM (EST) (the "Contest Period").
How to participate
Teams of 1-5 Participants will register for the Heritage Scavenger Hunt prior to August 26, 2021 at 6:00 PM (EST). During the Contest Period, teams of Participants will complete specified activities ("Activities") at 10 locations ("Locations") across London, answering questions and taking photographs, and will submit proof of these Activities on the Heritage Scavenger Hunt website. Participants should not expose themselves or others to any dangerous or harmful behavior or activity at any time during the Contest Period, no property should be damaged and there should be NO DIGGING at any location. Participants agree to abide by all applicable local, city, provincial and federal laws, including any Middlesex London Health Unit, Ontario or Canada Health guidelines regarding COVID-19. Void where prohibited or restricted by law.
The Heritage Scavenger Hunt website, with Locations and Activities, will be published at 8:00 AM on Friday, August 27, 2021. From August 27 until September 6, Teams will visit 1 to 10 locations across London and complete the Location-specific Activities.
Rules
Rule #1: No digging!
This is a scavenger hunt for experiences and information - do not remove anything from any location (other than trash).
Rule #2: Respect Location guidelines!
Individual Locations in the Heritage Scavenger Hunt may have their own rules about behaviour on site, including Covid-19 precautions and opening and closing times. Please respect all posted signage and abide by location rules.
Rule #3: Have Fun!
Registration
Each participant will register using the Museum of Ontario Archaeology's Eventbrite Registration page, indicating the name of their Team (Group).
Teams will consist of 1-5 Participants. Please abide by the current Covid-19 regulations provided by the Middlesex London Health Unit for gathering restrictions or guidelines when forming teams.
Each Team will select a Team Leader to act as the primary point of contact. The Team Leader must be 18+ years of age.
During registration, the Participants will be asked to confirm that they have read and agree to abide by the Contest Rules and Regulations. All members of a Team must be registered Participants on the Eventbrite Page. Unregistered Participants will not be eligible for prizes.
Locations
The Scavenger hunt is divided into 10 'locations' as follows:
1: Museum of Ontario Archaeology
2: Sifton Bog
3: Springbank Park
4: Terry Fox Walkway
5: Cemeteries (Woodland or Brick Street Cemeteries)
6: Talbot Block
7: Victoria Park
8: Western Fair District
9: Meadowlily Woods
10: Westminster Ponds
Activity Form Submissions
Participation in the MOA Heritage Scavenger Hunt requires the submission of text and photographic images ("Activities") in the Activity Form on each Location webpage. Teams who participate in the Contest and submit the Location Activity Forms (the "Entry"; collectively the "Entries") will be entered into the Contest. Entries must include a registered Team Name and be submitted during the contest period to be eligible for a prize draw. For example, for an eligible Team to be included in the draw, their Entries must be submitted by September 6, 2021 at 11:59 pm (EST). Submission of Entries is required to be eligible for Prize Draws.
Prizes
There are three types of Prizes. Prizes will be awarded by Team and all winners will be drawn from all Eligible Entries.
Grand Prize: To be Eligible for the Grand Prize draw, Teams must submit a complete Entry for every Location (5 Activities per Location). Only one Grand Prize will be awarded. If there are no Teams that meet the eligibility for the Grand Prize draw, the prize will be drawn from the Teams that have submitted the most Entries.
Location Prizes (10): One Location Prize will be drawn for each of the 10 Locations. To be Eligible for a Location Prize, a Team must submit a complete Entry (5 Activities) for the Location being drawn.
Participation Prizes: Participation Prizes will not be tied to specific Locations but will be awarded based on best effort as decided by an evaluation committee. The number of prizes will be dependent on the number of sponsor donations.
Prize Table
Type of Prize
Directions
Grand Prize
Complete 5 activities at each of the 10 Locations (50 Activities).
Location Prize
Complete 5 activities at one Location.
Participation
Completion and submission of a Team Participation task
Draws
All random draws will take place in a Zoom broadcast on the Museum's social media channel at 2:00 PM (EST) on Thursday, September 9th, 2021 from all eligible Entries received. The identified Team Leader of the selected Teams will be contacted by the MOA at the email address provided within ten (10) days of the draw. A Declaration and Release form will be included in the Prize notification email.
The Prizes will be picked up by a Team representative or shipped to the address provided by the winner. The selected Team representative agrees to sign and return the MOA's Declaration and Release form before receiving their Prize. Prizes not picked up within 30 days of the Draw will be considered forfeited.
General rules
The odds of being selected a winner are dependent on the total number of eligible Entries received during the respective draw period.
Entrants who have not complied with these rules and guidelines will be disqualified.
The MOA is not responsible for incomplete, illegible, damaged, lost, delayed, or misdirected Entries, or Entries that are irregular, have been submitted through illicit means or do not conform with or satisfy any or all of the conditions of the present rules. Any such Entries will be judged void.
The MOA assumes no responsibility for any problems or technical malfunction of any telephone network or lines, computer online systems, servers, access providers, computer equipment, software failure of any e-mail or Entry associated with the Contest on account of technical problems or traffic congestion on the Internet. The MOA reserves the right, in its sole discretion to cancel or suspend the Contest should a virus, bug or other cause beyond the reasonable control of the MOA corrupt the security or proper administration of the Contest.
Decisions taken by the MOA with respect to all aspects of the Contest, including and without limitation, eligibility and/or disqualification of Entries, are final and binding, without right of appeal. Entrants using any scheme, information, or method to win any Prize that, in the sole opinion of the MOA, is other than a fair chance will be disqualified and lose the right to claim the Prize to which they otherwise would have been entitled.
All Entries are the property of the MOA and will be handled in accordance with their privacy policy. No communication about the Contest will take place with Participants, except the Participants selected as potential Prize winners. Entries are destroyed within a reasonable period following the completion of the Contest.
By entering the Contest, each Participant absolves the MOA and its respective affiliated companies, officers, directors, employees, agents, representatives, and contractors (the "Contest Group") from any and all liability for any harm they may suffer as a result of participation in the Contest, compliance or non-compliance with these Contest rules and acceptance and use of the prizes. The MOA will not be responsible for and will not compensate any individual for any technical or man-made issues that may interfere with the delivery of an Entry into the Contest.
By entering the Contest, Participants authorize the MOA to use their Entries, name, picture, image, voice and/or statements about the Contest, MOA, and/or the prizes for marketing purposes, and to do so without remuneration of any kind. The names of Participants and submitted Entries may be used for promotion, publishing, and exhibition.
The Contest is subject to all applicable federal, provincial, and municipal laws and regulations.
Sponsor: Museum of Ontario Archaeology, 1600 Attawandaron Road, London, Ontario, N6G 3M6