Description
[English Version Below]
Café Hacking Health : Santé au travail - présenté par Desjardins Assurance
La promotion de la santé et du bien-être au travail, incluant le support institutionnel des maladies chroniques, peut créer une amélioration importante de la qualité de vie de l'individu à long terme et avoir un impact positif important sur le système de la santé. Cette promotion permet de cultiver au sein des organisations un bon environnement de travail et d'impacter positivement la productivité des employés, contribuant à la réputation de l'employeur.
Hacking Health et Desjardins Assurances vous invitent à participer à ce café ce 26 septembre pour discuter de ce sujet et explorer la manière de créer un environnement de travail plus sain. Pour cela, nous accueillerons divers intervenants qui nous aideront à prendre connaissance des enjeux et besoins physiques, psychologiques ou financiers en lien avec la santé et la sécurité au travail.
Aussi, des ateliers interactifs et collaboratifs seront menés pour faciliter des discussions autour de ce sujet pour alimenter les défis du Coopérathon car la santé au travail est un axe important du volet santé de la compétition.
La soirée se conclura par une séance de réseautage accompagnée de quelques snacks et rafraîchissements.
Le café sera organisé comme suit :
17:30 - Accueil des participants et mot de bienvenue
Isabelle Mousseau, Desjardins Assurances
Marie-Kristine Hamel, Groupe Entreprises en Santé
Renée Ouimet, Mouvement Santé Mentale Québec
Laura Patakfalvi, MDCM Professeure associée, Université McGill Consultante individuelle & corporative
Bradley Smith, HALEO
Judith L'heureux, Ergothérapeute

Nom de l'invité à venir, GSOFT
Pause

Atelier enjeux, besoins et problématisation

Séance de réseautage
20:30 - Clôture de l'évènement
***
Hacking Health Café : Health at Work - presented by Desjardins Insurance
The promotion of health and wellness, including the support of management of chronic illness, in the workplace can produce a drastic improvement of individuals' long-term quality of life, and have a significant positive impact on the public health system. Doing so also improves work environment, increases employees productivity, and reflects well on the employer.
Hacking Health and Desjardins Insurance invite you to participate to its café on September 26th, to discuss and explore how to achieve healthier workplaces. We will be showcasing a couple of presentations that are aimed to present some psychological, physical and financial issues and emergent needs related to health and wellness in the workplace. It will be followed by a collaborative workshop where you will be invited to share ideas and further discuss the subject. This workshop is an excellent opportunity to feed Coopérathon challenges, because health and wellness in the workplace is an important topic for the health track of the competition. The evening will conclude with a networking session to continue talking while enjoying fresh drinks and snacks.
Schedule of the event :
17:30 - Event opening
Isabelle Mousseau, Desjardins Insurance
Marie-Kristine Hamel, Groupe Entreprises en Santé
Renée Ouimet, Mouvement Santé Mentale Québec
Laura Patakfalvi, MDCM Associate professor, McGill University Corporate & individual nutrition consultant
Bradley Smith, HALEO
Judith L'heureux, Occupational therapist
Guest to be announced, GSOFT
Pause

Workshop

Networking
20:30 - Closing
Présenté par / Presented by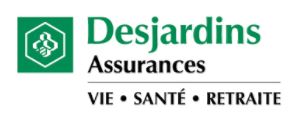 Commandité par / Sponsored by

Activité préparatoire du / Preparation activity for