Crack the mystery of the hieroglyphic script over three lively learning classes, led by Egyptologist Laura Ranieri Roy.
About this event
Fascinated by Egyptian Hieroglyphs? Get a beginner-level understanding of this amazing ancient language over a three-week series of classes, taught by an Egyptologist.
Together we will learn what the characters mean, how to write your own name - and identify and translate specific king's names and simple titles. At the end of the series, you should be able to identify and read a few simple phrases and an offering formula. We will also give you a rudimentary understanding of the complex grammar.
You will receive:
a hieroglyphic cheat sheet.
a king's name cartouche list.
weekly exercises, to practice.
Lesson one: Master the alphabet, and learn the directions in which to read hieroglyphs. We will look at some popular monuments. You will also learn about ideograms and gain some basic vocabulary.
Lesson two: Increase your vocabulary and learn some basic sentence structures. We will also take a look at a number of famous Pharaoh's names – so you may easily recognize them on monuments and artifacts.
Lesson three: Master a few key prayers and titles that appear repeatedly on the monuments and artifacts of Ancient Egypt. These include official titles, and a typical offering prayer.
Learning outcomes:
You will gain a mastery of the hieroglyphic alphabet and its history along with a familiarity with common words and phrases. You will also acquire a rudimentary understanding of the grammar of the language.
Most excitingly, you will be able to recognize:Some popular King's names. Key elements of offering formulas.
Most frequently used greetings, prayers and wishes.
A basic understanding of grammar structure.
Who is this course for?
Anyone travelling to Egypt soon.
Anyone who has been to Egypt and wants to learn more about the language.
Language lovers.
Ancient history fans.
Egyptophiles.
Lifelong learners.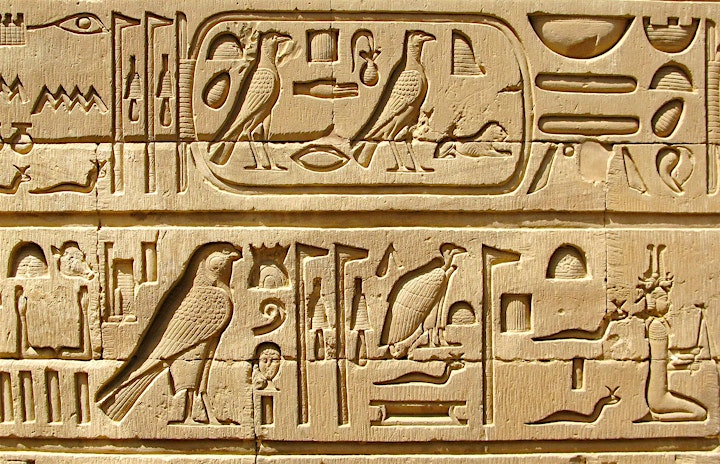 About Laura Ranieri Roy, MA Egyptology
Laura is founder and director of Ancient Egypt Alive (2013) She holds a Master's degree in Near & Middle Eastern Civilizations (Egyptology) from the University of Toronto, and has excavated at the ancient Greek site of Apollonia Pontica in Bulgaria, and in Egypt at Amarna and South Asasif (Luxor). She creates and leads specialized learning tours and has travelled to Egypt more than 15 times.
Educator at Late Life Learning Institutes
Laura lectures on Ancient Egypt and ancient civilizations, and has taught across North America at museums, historical societies, and academic conferences. She is a popular speaker amongst "Later Life Learning" Networks: Ryerson University's Life Institute, LLIR at York University/Glendon College, LLL, University of Toronto and more. She has also been an Egyptian history Specialist Partner for the Toronto District School Board (Canada's largest school board).