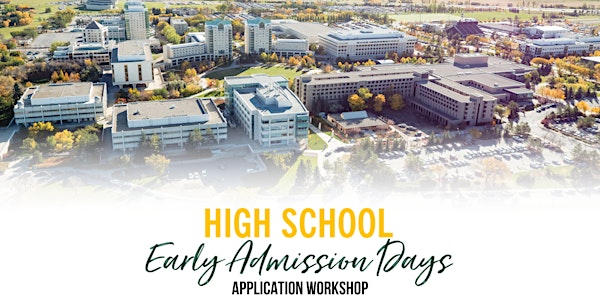 High School Early Admission Days - Application Workshop (Feb 9, 2022)
High School Early Admission Days - Application Workshop (Feb 9, 2022)
About this event
From February 8-15, 2022, high school students in grade 12 who submit their online application, high school transcripts, and reduced application fee ($50) will have their application processed within a week, and if admissible, they will be conditionally accepted.
The Early Admission Days promotion is only available for Undergraduate Prospective students. We cannot offer early admission to Graduate students, Post-Secondary Transfer students, or International students at this time.
-
Application Workshop will cover:
a demonstration of how to apply!
answers to your application questions!
one-on-one enrolment counselling (discuss program options)!
The Zoom link will be provided in your confirmation email once you register for the event.
-
Please note:
There is limited capacity in this session. 
You MUST be a CURRENT DOMESTIC HIGH SCHOOL STUDENT (in Grade 12) to register for this event and participate in Early Admission Days for High School Students.