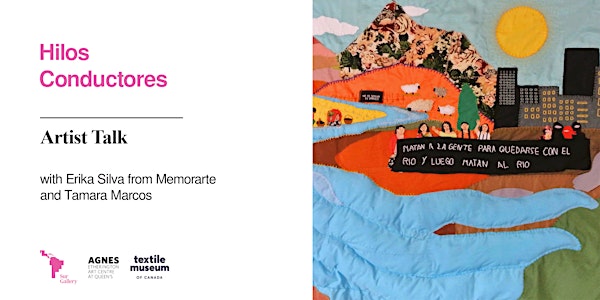 Hilos Conductores: Artist Talk with Memorarte and Tamara Marcos
Artist talk with Erika Silva from Memorarte and Tamara Marcos on Zoom on their work in the Hilos Conductores exhibition.
About this event
1 hour 30 minutes

Mobile eTicket
On March 16th, join artists Erika Silva from Memorarte and Tamara Marcos in discussing their work in Hilos Conductores Exhibition.
ABOUT THE EXHIBITION
In Spanish, the phrase hilos conductores can mean two things: conductive threads and the main idea or theme of a story. Hilos Conductores explores the threads that connect life in Chile with Canada in uneven ways. These include copper mining, private water utilities and other extractive schemes, but also refuge, art and networks of transnational solidarity. To do this, this exhibition brings a sample of arpilleras (political textiles) created during the Chilean dictatorship together with the recent work of textile artists and collectives: Bélgica Castro, Soledad Muñoz, Tamara Marcos, Memorarte and Autorretazo. Spanning three countries and various decades, the presentation of these works seeks to honour generations of textile artists who have drawn on unsuspected materials, like thread, fabric and sewing needles, to denounce human rights violations, free-market economics and extractivism. Conceptualised during the 2019-2020 anti-establishment revolts in Chile and resulting constitutional referenda, Hilos Conductores highlights the power of political textiles to uncover complex geopolitical relations that stand in the way of social change and decolonial futures.
Given the uneven geographies that emerge from the state global political economy, transnational demonstrations of solidarity and hopes for transformative change require that we consider our own positionality within extractive schemes. They also require that we re-imagine North-South and human-nature relationships in more just and sustainable ways. It is by attending to these complexities that the thread of hope that runs throughout the works featured in this exhibition emerge.
ABOUT THE SPEAKERS
In 2015, Erika Silva, Alejandra Campos, y Cynthia Imaña invited Pamela Monasterio, Ximena Fernández, Ana Reyes to the Memorarte collective and began work within the neigbourhood of Pedro Aguirre Cerda in Santiago, Chile. They organise their textile work around the slogan "Bordar para Incidir" which can be translated to "embroidery for change". Through their work in the collective, Memorarte has developed a distinctive style, creating large-scale textiles that are activated within marches, protests, and other public spaces. In2020, they created the Escuela de Arte Textil y Resistencia where they teach virtual and in-person classes related to the creation of protest arpilleras, embroidered handkerchiefs, feminist textiles, and others. Memorarte have collaborated with: Greenpeace in different projects for the defense of water and against salmon fisheries; they have participated in different research related to textile art, human rights, and feminism; and they have collaborated with academic projects, and other artistic organizations. Memorarte has exhibited their work in the Murray Edwards College of the University of Cambridge; the London School of Economics and Political Sciences U.K; Le Rocher de Palmer and the Instituto Cervantes in Bordeaux, France; the United Nations; the Gabriela Mistral Centre (GAM), and the Museo Violeta Parra in Chile.
Born in 1986, Tamara Marcos is a textile artist and researcher of pre- Columbian iconography and Latin American embroidery of Indigenous peoples, as well as founder of the Trenza Textil virtual school. She has taken courses, seminars and has participated in various exhibitions in Chile and Argentina. She currently resides and develops her work in Chillán, Ñuble region, linking textiles, women, and decolonization processes.
ABOUT THE CURATOR
Nathalia Santos Ocasio is a PhD candidate in Human Geography at Queen's University. Her research looks at how place-based art practices respond to and resist complex global economic processes. A Queen's University, Nathalia has been active in the GEELs research lab as well as in advocacy for international students. She is Human Geography editor for the Global Encounters: New Visions journal.
ABOUT THE GALLERY
Sur Gallery is Toronto's first gallery space dedicated to the exhibition and critical engagement of contemporary Latin American Art and is a project of LACAP.
For information contact:
416-654-7787
info@surgallery.ca
www.surgallery.ca
www.surgalleryvirtual.ca
www.facebook.com/LACAPsurgallery
https://www.youtube.com/user/lacapcanada/videos
Gallery Hours:
Thursdays and Fridays 12 pm-6 pm
Saturdays 11AM-5PM
Location: 100-39 Queens Quay East, Toronto
Sur Gallery acknowledges the financial support of the Canada Council for the Arts; Ontario Arts Council; Toronto Arts Council; Canadian Heritage through Community Support, Multiculturalism, and Anti-Racism Initiatives Events component; The City of Toronto through section 37; and its sponsor Ready2Post.