Description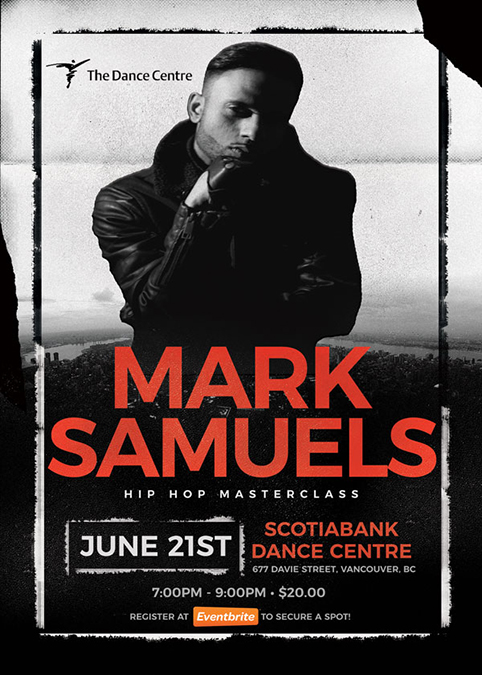 ---
COME TAKE CLASS WITH THE ONE AND ONLY.....MARK SAMUELS!


CHECK OUT SOME OF HIS WORK RIGHT HERE:
YOUTUBE: https://www.youtube.com/MarkASamuels
INSTAGRAM: @MARKASAMUELS
MARK SAMUELS BIO:
In the early days of his career, Mark danced for countless Canadian artists such as Shawn Desman, Jully Black, Victoria Duffield and Nelly Furtado to name a few. He has also danced in Canada's most notable live shows such as The Juno Awards, MMVA's and So You Think You Can Dance Canada.
After spending years building his resume and honing his skills as a Canadian dancer, Mark decided to take the next major step in his career and become a dancer in the U.S. He was fortunate to work with some of the industries top choreographers there. His journey led him to dance for multi-platinum recording artists such as Mariah Carey, Mary J Blige, Missy Elliott, Mario and many more.
Today, Mark is a well-established figure in the dance industry and with over 20 years of experience, he has shifted his passion into choreography. Teaming up with the legendary Paul Becker, Mark has co-choreographed for films such as "Dr. Cabbie", "Disney's - The Descendants" and "Death Of A Vegas Dancer", starring Roslyn Sanchez. He also just finished "Dancing With The Stars" for promo of "The Descendants 2" movie. He's currently working on the Netflix series "A Series Of Unfortunate Events" starring Neil Patrick Harris and Deadpool 2 starring Ryan Reynolds.
Having lived on both sides of the fence, Mark wants to be an influential voice in the dance industry that will allow him to provide opportunities to the next generation of dancers.