About this Event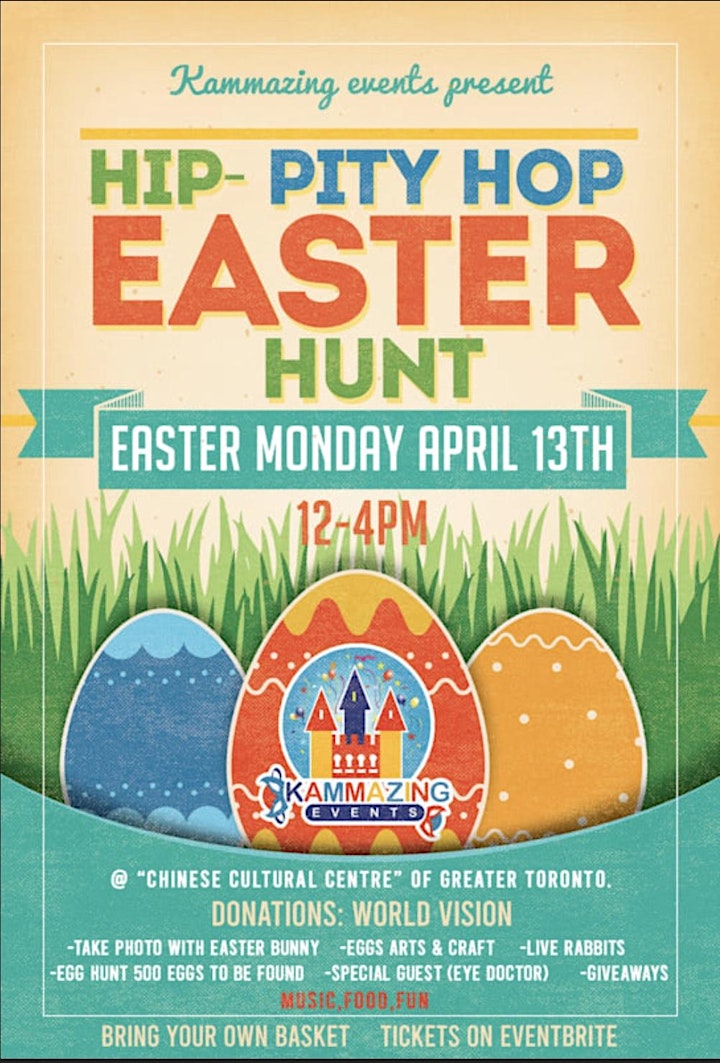 @kammazingevents Present:
Hip-pity Hop Easter 🐣 Hunt‼️Monday April 13th 2020 12-4pm @ "Chinese cultural centre" of greater Toronto. -
🌟EGG CRAFT 🥚(painting)
🌟FACEPAINTING 🐤🎨
🌟CHOCOLATE EGG HUNT 🍫
🌟LIVE🐇RABBITs & BUNNY s🐰
🌟 OPTOMETRIST SPEECH 👀🥕
🌟MEMORABLE PHOTOS WITH THE EASTER BUNNY
🌟ALL IN SUPPORTED IN RAISING DONATIONS TOWARDS :WORLD VISION 👀
🌟GIVEAWAYS & PRIZES
🌟MUSIC /CHOCOLATE/GAMES
Celebrating the modern tradition of eating chocolate eggs is a Fun Physical activity for everyone in a non-competive settings. Kid-Friendly twist of hunting for Easter eggs to keep the children active and adventurous.
The custom of giving eggs at Easter celebrates "new life". These eggs were painted in bright colours to give them further meanings as a gift.
We are delighted to entertain communities but to also educate our audience in order to advocate growth and mental health in all environments With inviting optometrist to seek information on improving vision. also enjoying Extra curriculum furry friends bunnies & rabbit and face painting as well.