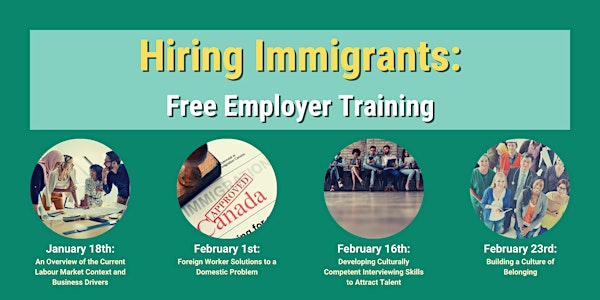 Hiring Immigrants: Free Employer Training
Free training for employers on why hiring immigrants can be beneficial, how to attract and retain immigrant employees, and more!
By St. Lawrence - Rideau Immigration Partnership
Date and time
Wed, Jan 18, 2023 5:00 AM - 6:00 AM PST
About this event
Are you struggling to find staff? Do you want to diversify your workforce, or are you interested in making international connections? Then check out our free training series focused on the needs of Leeds and Grenville employers!
Each session focuses on a different topic, and you can register for as many or as few of the sessions as you'd like. All sessions will be done over Zoom. Our sessions are:
January 18th, 8-9am: An Overview of the Current Labour Market Context and Business Drivers
Are you thinking of hiring immigrants, but are unsure if that would fit your business, industry, or plans for the future? Are you worried about labour shortages? This one-hour session will give you an overview of not only the current labour market and how business is changing, but give you an idea of the potential benefits of hiring immigrants.
February 1st, 1-2:30pm: Foreign Worker Solutions to a Domestic Problem
If you're interested in the potential talent pool abroad, but are unsure of what requirments and red tape you need to work through, check out this session! Our expert will go through not only the different types of immigrants and visas, but how they will affect their employment eligibility, and all about those already here.
February 16th, 10-11am: Why developing Culturally Competent Interviewing Skills to Attract Talent
To ensure you can hire immigrants, you must ensure your hiring practices reflect a culturally competent approach, or risk losing out on talent. Learn how you can change big and small things to ensure your hiring process is as inclusive and attractive as possible both locally and internationally.
February 23rd, 9-11am: Building a Culture of Belonging
We all long to belong; but how do we build this experience at work? In this introductory module, we explore what it means to feel a sense of belonging in our workplaces, what it looks like, why it matters, and the foundational components for building it.