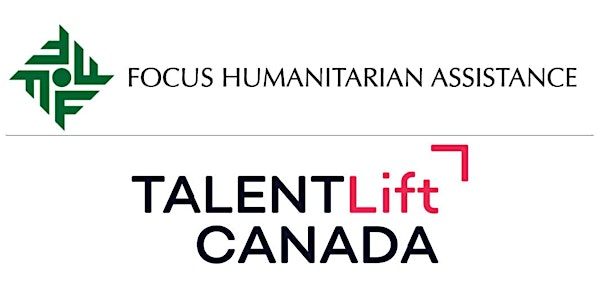 Hiring with Impact: How to Recruit and Relocate Talent to Canada
Focus Humanitarian Assistance and TalentLift Canada have partnered to connect Canadian organizations with talented displaced peoples.
When and where
Location
The Ismaili Centre, Toronto 49 Aga Khan Boulevard Toronto, ON M3C 0K8 Canada
About this event
Canadian employers have an opportunity to recruit and relocate talent from within refugee populations as a solution to skills shortages in Canada and displacement worldwide. There are more than 27 million people living as refugees around the world with few options to achieve livelihoods and security. Among them are 2.6 million people who have left Afghanistan, many of whom live in countries where they can't legally work, open a bank account, or access basic services like school for their kids. Less than 1% of people living as refugees are able to access humanitarian resettlement to a new country each year. The majority are stuck in camps or insecure urban environments. And yet, many thousands have competitive skills needed by employers across Canada. In recognition of this potential, the Government of Canada, alongside the UN Refugee Agency (UNHCR) and partner NGOs, developed an innovative immigration pilot to enable talented refugees to use their skills as a solution to displacement. Canada's Economic Mobility Pathways Pilot (EMPP) overcomes some of the barriers that have traditionally kept refugees locked out of job and skilled visa opportunities, such as use of an expired passport or use of charitable loans in lieu of savings. The result is that Canadian employers have increasing access to a new talent pool of applicants eager to contribute in a safe new home.
Focus Humanitarian Assistance and TalentLift Canada have partnered to connect Canadian hiring teams with talented people displaced from Afghanistan who are living as refugees primarily in India and Turkey. Among this talent pool are Auto Mechanics, Kitchen Managers, Engineers, Personal Support Workers, and many other professionals.
Dilruba is one of them. She is a talented nurse from Afghanistan whose studies were interrupted when she had to leave the country with her family and seek refuge in India. FOCUS and TalentLift supported her to apply for a job with a long-term healthcare provider in St. John's, Newfoundland and Labrador. She arrived this summer to begin working as a Nurse Aide and to pursue her longtime dream of becoming a licensed Nurse. She said her first day at work was "absolutely amazing."
Join as we share this unique initiative, success stories, and how to leverage this impactful hiring opportunity.