Description
This workshop will focus on a detailed description of historic trauma and how it shapes Aboriginal client behaviour. From this perspective, best practices for providing Aboriginal client services will be explored. The group will also discuss best practices for providing client services grounded in this understanding of the core issues.

About the Facilitator:
Dr. Patti LaBoucane-Benson has a PhD in Human Ecology, focusing on Aboriginal Family and Community Resilience. She has worked for Native Counselling Services of Alberta (NCSA) for 20 years and is currently the Director of Research, Training and Communication. Patti oversees the work of BearPaw Media Productions, BearPaw Legal Education and Resource Centre, as well as the lead researcher and executive producer of BearPaw Communications. Patti oversees the development and implementation of the historic trauma healing programs for NCSA and in May 2015, Patti's first novel was published by House of Anansi Press.
Based on her research The Outside Circle is an illustration of how historic trauma has resulted in poverty, gang affiliation and hopelessness for an inner-city Aboriginal family. The 130 page fully illustrated graphic novel is a gripping story of healing, reconciliation and reclaiming identity.
Participant Feedback:
"A very powerful and necessary training course."

"A highlight for me in the day was group brainstorming and reflection. It was helpful to apply the theory to an everyday experience."

"An insight I had was the importance of including our Aboriginal clients in any strategies we create to provide support or assistance - we can't simply dictate what we think they need."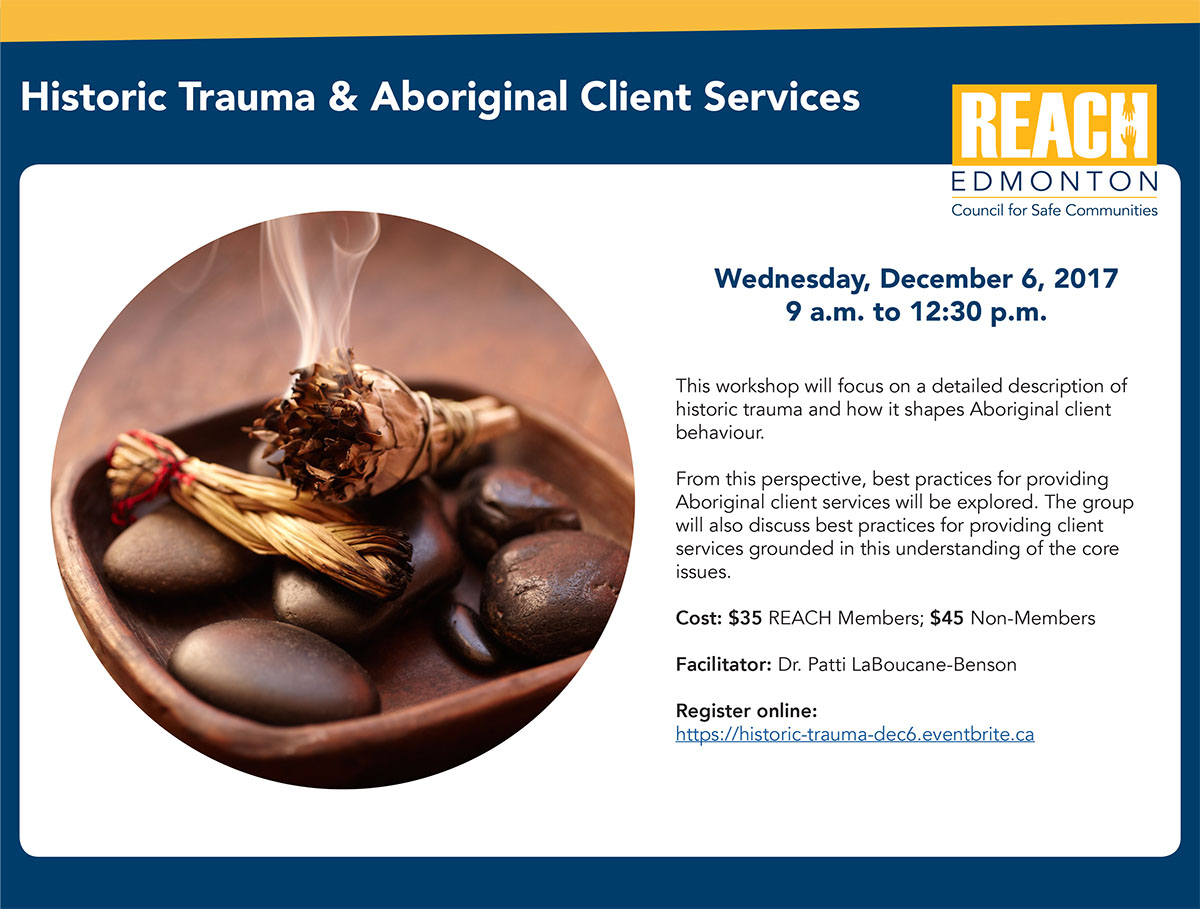 Notice to Registered Social Workers: REACH workshops are eligible for Category A credits with the Alberta College of Social Workers if they align with your personal learning goals for the year and you submit a Category A Summary Form in your personal portfolio.
Stay up-to-date on REACH trainings and REACH news, register to join the mailing list here.