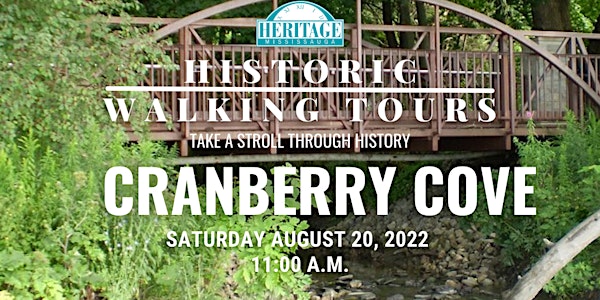 Historic Walking Tours: Cranberry Cove
Historic Walking Tours: Cranberry Cove
When and where
Location
666 Lakeshore Rd W 666 Lakeshore Road West Mississauga, ON L5H 2T3 Canada
About this event
Heritage Mississauga is pleased to announce that our series of Historic Walking Tours will run from Saturday July 30, 2022 at 11:00 a.m.
Heritage tour guide Richard Collins will take participants on a journey back in time with a guided walk through historic Cranberry Cove.
Take a tour past the homes of Port Credit's exclusive west-end "4-H Club" – home to the Hill, Haney, Hoyt and Hobberlin families; including the site where a rousing speech was made just months before the speaker became our ninth prime minister. This tour will also take us through Rhododendron Gardens and Ben Machree Park.
We invite you to take a stroll through history with us this summer.
For more information contact Kelly Ralston at info@heritagemississauga.org or visit our website at https://heritagemississauga.com/
Tours are free and we just ask that you tip your tour guide!
Tours will take place from July 30, 2022 to September 17, 2022 and will include various walks through Port Credit, Clarkson, and Lakeview. Tours are approximately 90 minutes.
Additional evening tours will be added in August 2022.
The Cranberry Cove tour will start at the parking lot near Brueckner Rhododendron Gardens at 666 Lakeshore Rd W, Mississauga, ON L5H 2T3
Reserve your spot now!
The schedule for the summer tour season is as follows:
Saturday July 30, 2022 - Port Credit Heritage District
Saturday August 6, 2022 - Credit Grove
Saturday August 13, 2022 - Clarkson
Saturday August 20, 2022 - Cranberry Cove
Saturday August 27, 2022 - Port Credit Marina District
Saturday September 3, 2022 - Lakeview
Saturday September 10, 2022 - Hiawatha
Saturday September 17, 2022 - Port Credit Downtown
Based on demand, additional tours may be added. Cemetery tours will follow in October 2022.
https://www.eventbrite.com/cc/historic-waking-tours-926669?utm-campaign=social&utm-content=creatorshare&utm-medium=discovery&utm-term=odclsxcollection&utm-source=cp&aff=escb