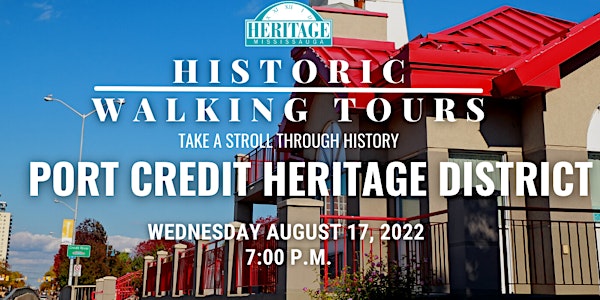 Historic Walking Tours: Port Credit Heritage District
Historic Walking Tours: Port Credit Heritage District
When and where
Location
Port Credit Lighthouse 105 Lakeshore Road West Mississauga, ON L5H 1E9 Canada
About this event
Heritage Mississauga is pleased to announce that our series of Historic Walking Tours will begin on Saturday July 30, 2022 at 11:00 a.m.
Heritage tour guide Richard Collins will take participants on a journey back to historic Port Credit with a guided walk through the Port Credit Heritage District.
Returning to port after a busy day of fishing or stonehooking, the lakeboat captains of 19th century Port Credit came home to this quiet community of friends and neighbours. The historical character of this community – south of Lakeshore Road, between Mississauga Road and the Credit River – is now protected under the Ontario Heritage Act.
We invite you to take a stroll through history with us this summer.
For more information contact Kelly Ralston at info@heritagemississauga.org or visit our website at https://heritagemississauga.com/
Tours are free and we just ask that you tip your tour guide!
Tours will take place from July 30, 2022 to September 17, 2022 and will include various walks through Port Credit, Clarkson, and Lakeview. Each tour will be approximately 90 minutes.
Additional evening tours will be added in August 2022.
The Port Credit Heritage District tour will start at the iconic Port Credit Lighthouse at 7:00 p.m. on Wednesday August 17, 2022.
Reserve your spot now!
The schedule for the summer tour season is as follows:
Saturday July 30, 2022 - Port Credit Heritage District
Saturday August 6, 2022 - Credit Grove
Saturday August 13, 2022 - Clarkson
Saturday August 20, 2022 - Cranberry Cove
Saturday August 27, 2022 - Marina District
Saturday September 3, 2022 - Lakeview
Saturday September 10, 2022 - Hiawatha
Saturday September 17, 2022 - Port Credit Downtown
Based on demand, additional tours may be added. Cemetery tours will follow in October 2022.
https://www.eventbrite.com/cc/historic-waking-tours-926669?utm-campaign=social&utm-content=creatorshare&utm-medium=discovery&utm-term=odclsxcollection&utm-source=cp&aff=escb