Part I of Historya 2 || Brief History of the Philippines | Personal Stories of Migration
About this event
This event page is for the PART I of the HISTORYA event. Please check out PART II as well.
HISTORYA 2 builds on the success of the HISTORYA 1: Walking Through the Story of the Filipino People held in September 2018 in Edmonton. This interactive exhibit showcased Philippine history and culture as far back as 10 million years ago up to the present.
HISTORYA 2 offers a two-part learning series of visual and intercultural dialogues about the historical and cultural experiences of Filipinos as a way of building bridges across cultures.
Monday, September 28, 2020 (4:00 - 5:30 PM - Live Event; 5:30 - 7:00 PM - Replay)
The first day of the learning series features Historya 1, which is a video presentation of the 2018 event to set the historical and cultural context of Filipino culture.
My HISTORYA is a story telling session of personal stories and insights on the migration of Filipinos to Alberta presented through various art forms and performances. My HISTORYA showcases a glimpse of the migration history of one of the fastest growing immigrant communities in the Alberta province.
Wednesday, September 30, 2020 (4:00 - 5:30 PM - Live Event; 5:30 - 7:00 PM - Replay)
Dialogues on the Filipino Diaspora: Philippine history and Filipino culture is an interactive learning activity where participants explore historical, economic, social and political conditions in the Philippines that explain push and pull factors of Filipino migration.
The event will culminate with participants engaged in a mutual learning and reflection in defining the Filipino identity in the midst of a diverse multicultural society and find the bridging points where cultures meet and learn from each other.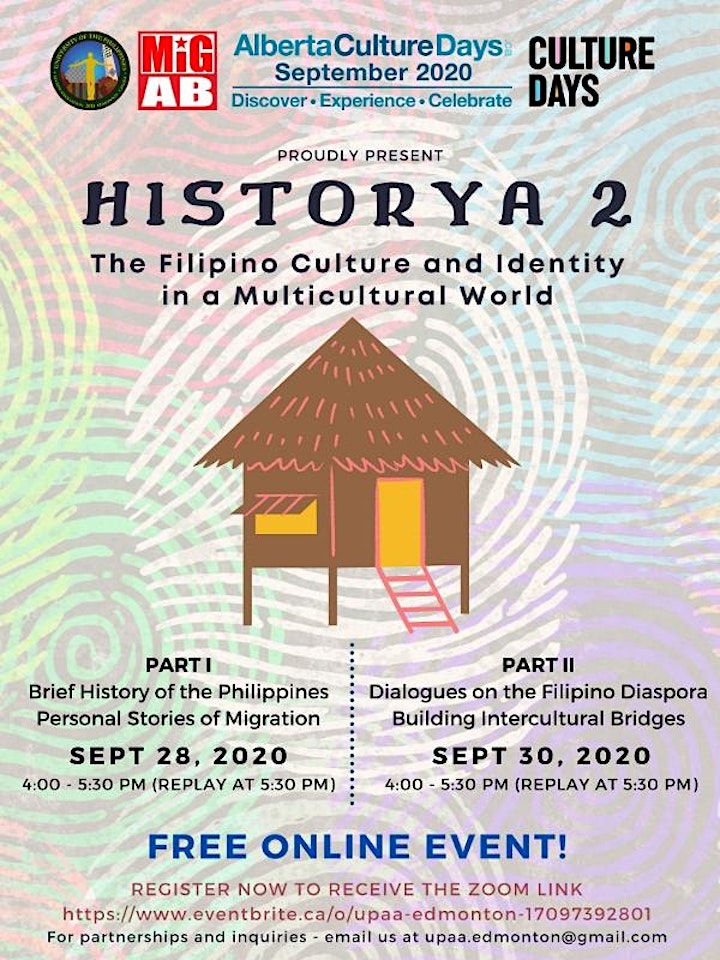 Organizer of HISTORYA 2: The Filipino Culture and Identity in a Multicultural World
UPAAE is a group of alumni from the University of the Philippines (UP) based in Edmonton, Alberta, Canada. The work to incorporate the new association began in June 2013, and the inaugural meeting was held on July 18, 2013.
UPAAE aims to achieve the following objectives: foster fellowship and cooperation among the members of the association; promote education and skills training through scholarships, bursaries, and similar programs; implement projects and programs that will inform, support, and assist members and the community; support the promotion of Philippine culture and heritage; and, provide a channel of communication between the University of the Philippines (UP) and the members of the association.
Since 2013, UPAAE launched multiple projects and events to fulfill its objectives. Among them are the annual PLACE scholarships for UP students in the Philippines; participation in the Philippines Heritage Month and Fiesta Filipino; and, the Bahay Kubo Series, which is a 10-month crafts program where kids learn more about the indigenous life in the Philippines.
UPAAE was awarded the Distinguished Service Award for an Alumni Chapter in 2019 by the University of the Philippines.