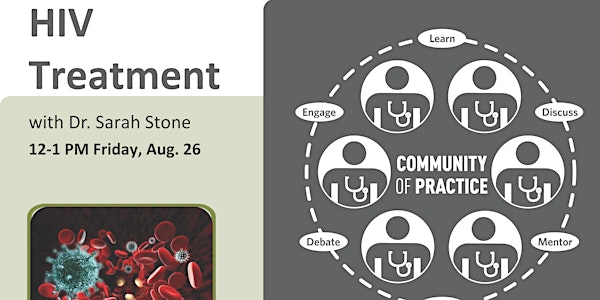 HIV Primary Care Community of Practice
A virtual presentation and discussion with Dr. Sarah Stone, MD, CCFP (AM), ISAM
About this event

Join us for a CME presentation on HIV treatment topics. 1 Mainpro+ Group Learning credit
Open to members of Powell River's Division of Family Practice and Facility Engagement and select non-members only.
LEARNER-CENTRED OBJECTIVES
At the end of the session, participants will:
Know who to test for HIV and how to interpret testing results
Learn how to provide longitudinal primary care and prevention for people living with HIV
Understand a broad range of commonly used therapies for HIV and how and what to monitor
Understand what resources are available to support practitioners caring for patients living with HIV
SPEAKER INFO
Dr. Stone (MD, CCFP (AM), ISAM) is a family physician and HIV care provider in the role of Physician Lead at the John Ruedy Immunodeficiency Clinic, St. Paul's Hospital. She is also the Regional HIV Medical Director for VCH, and a member of the Department of Family and Community Medicine at Providence Health care. She is a Clinical Instructor at UBC and actively teaches and mentors medical students, residents and nurse practitioners in primary care and HIV medicine. She has worked in a variety of clinical settings, including rural medicine. She completed her medical degree at the UBC and her residency in the Rural Family Medicine Program at the University of Calgary.