Description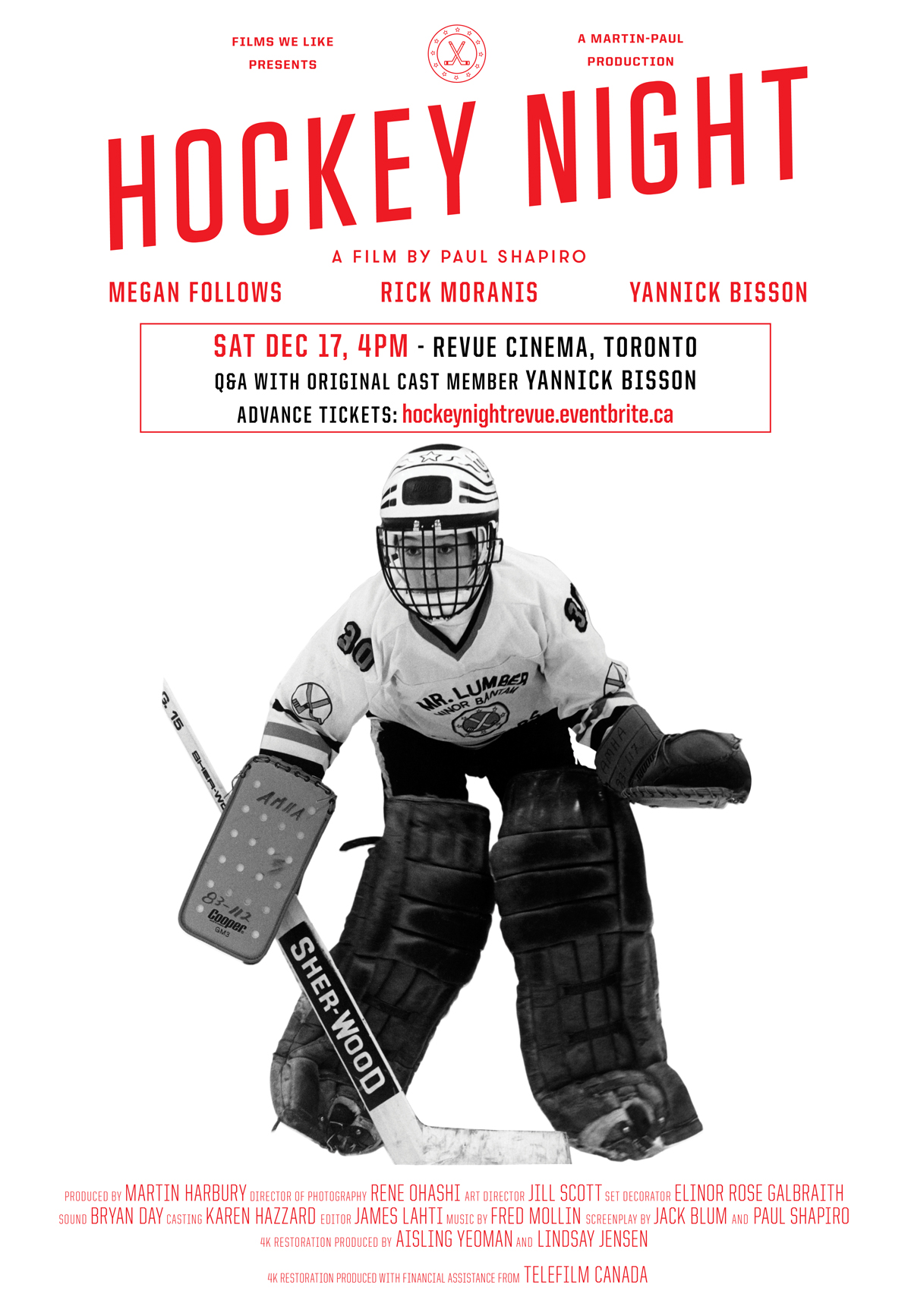 Hockey Night - new 4K restoration!
Hosted by Films We Like and The Revue

1984 Canada 74min. PG
Directed by Paul Shapiro
Written by Jack Blum, Paul Shapiro
Starring Megan Follows, Rick Moranis, Yannick Bisson, Ingrid Veninger
An '80s family classic is lovingly restored and back on the big screen, only at the Revue Cinema! In HOCKEY NIGHT, beloved Canadian icon Megan Follows (Anne of Green Gables) stars as Cathy Yarrow, a confident and talented young athlete. Having moved to a small town, the bored and under-challenged Cathy straps on goalie pads and joins the boys' all-star hockey team—facing substantial criticism from the town, including local broadcaster Bum Johnson (Maury Chaykin) and the team's sponsor, lumber magnate Bill Moss (Henry Ramer)—both think girls have no place on the ice. Under pressure, Cathy stands firm between the pipes, helping the team win games while winning herself loyal allies in star player Spear Kozak (Yannick Bisson) and coach Willie Liepert (Rick Moranis).
A story of adolescent relationships, the struggles of small-town politics, and triumphing over the pressures of the adult world, HOCKEY NIGHT is an inspirational and delightful Canadian gem. Perfect for families, hockey enthusiasts and cinephiles, this rare screening satisfies cravings for 80s Canadian nostalgia, while also inspiring a new generation of aspiring athletes!
Co-star Yannick Bisson (Murdoch Mysteries), writer Jack Blum, as well as other cast & crew members will be in attendance!
New 4K restoration courtesy Films We Like.