Description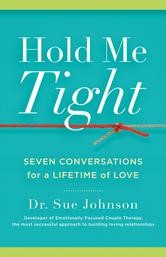 A loving relationship is our "safe base" in any storm. We encourage you to prioritize and nurture your greatest resource: the relationship with your partner. Based on the scientifically proven work of Dr. Sue Johnson, the Hold Me Tight program has helped many couples strengthen bonds and enhance trust and communication. During this two day event you and your partner will:

Learn about the science of love and attachment

Learn how to identify and correct negative cycles of couple interaction

Learn how to become more open and responsive with one another

Learn how to fix relational mistakes and create a secure base

Learn to bond through sex and touch

Develop your plan as a couple to keep your love alive



This program will consist of short presentations, couple exercises and group discussions. Participating couples will receive a copy of the book Hold Me Tight: Seven Conversations for a Lifetime of Love by Dr. Sue Johnson.

Would you like to feel closer to your partner?

Are you tired of arguments that never get resolved?

Do you ever wonder what your partner really feels?

Do you sometimes have trouble expressing how you really feel to your partner?

Do you want to learn a positive approach to strengthening your relationship?
---
Hold Me Tight is a 16-hour educational program based on Emotionally Focused Couple Therapy (EFT). The course includes a session for each of the 7 conversations in the book Hold Me Tight. Each session includes:
• Teaching of the theory and practice of love and the conversation
• Video clips of real couples having the conversation
• Private couple exercises
• Group discussion about the impact of the exercises
• Consultation with an experienced couple's therapist
• Homework assignments
---


Take this chance to keep your love alive
You deserve it, your partner deserves it, and your relationship deserves it