Join Alice Rose & special guest Rachel Manson for a one-of-a-kind interactive screening of The Craft - feat. stand up & live commentary!
About this event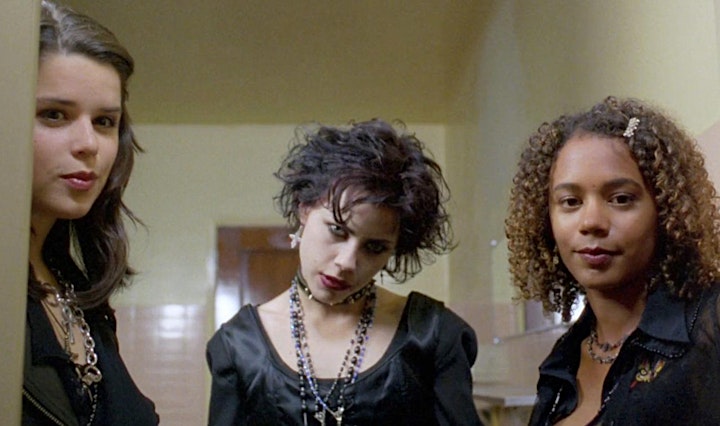 Were you as angsty as we were in high school? Join Alice Rose and special guest Rachel Manson for a one-of-a-kind interactive screening of The Craft - the spooky 90's cult classic that inspired a generation of witchy queers. Bring your Hot Topic cat ears and join us as we ask, how well does The Craft hold up?
This screening features a standup comedy performance and live commentary throughout the film!
About the film:
A new student befriends three teenage girls from her high school who practice witchcraft against those who irk them. However, the consequences of joining the coven turn out to be disastrous.
THE CRAFT
USA, 1996, 101 mins, AA
Directed by: Andrew Fleming
Starring: Fairuza Balk, Robin Tunney, Rachel True, Neve Campbell
About HOLD UP:
Remember those movies we all watched as teenagers that made us laugh so hard our sides hurt? If we watched them now, would they still be as funny? Starting this fall, join comedian Alice Rose and special guests as we screen our favourite comedy movies to find out how well they hold up today. Each month we will feature a guest comedian to start the show with a special stand-up performance, and provide live commentary with the host throughout the film.
Organizer of Hold Up: A Comedy Night Revue Series -- THE CRAFT (1996)
The recently renovated Revue Cinema is Toronto's premier not-for-profit community cinema. We offer great second-run Hollywood fare, insightful programming like our Silent Revue series — where classics from the silent era are accompanied on live piano — Food in Film, Designing the Movies, annual galas, retrospectives & numerous other community offerings. The Revue opened in 1912, making it the oldest operating cinema in Toronto. Support us by becoming a member & enjoy great perks throughout the entire year!