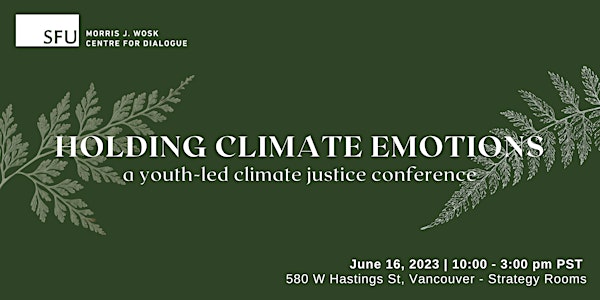 Holding Climate Emotions: A Youth-Led Climate Justice Conference
A youth-led climate justice conference to connect over climate emotions, political grief, and imagine just climate futures.
By SFU Morris J. Wosk Centre for Dialogue
Date and time
Fri, Jun 16, 2023 10:00 AM - 3:00 PM PDT
Location
Morris J Wosk Centre for Dialogue 580 West Hastings Street Strategy Rooms, Room #: 320 & 420 Vancouver, BC V6B 5K3 Canada
Agenda
10:00 AM - 10:40 AM
Introductions
---
Coffee and tea refreshments will be provided. Event programming begins at 10:30 AM.
10:40 AM - 11:00 AM
Welcoming from xʷməθkʷəy̓əm Youth and Elder
11:00 AM - 11:45 AM
Panel Discussion
with Lu Cee Everett (Frontline Organizer)
with Sagorika Haque (Organizer)
with Sarah Law (Researcher)
---
Panellists will be announced soon! We will have one researcher, one organizer, and one frontline organizer as invited speakers to share their experiences with climate emotional resilience, climate em...

11:45 AM - 11:55 AM
Break
---
Coffee, tea, and refreshments will be provided
11:55 AM - 12:55 PM
Dialogue 1: Holding Climate Emotions
with special guest: Gab the Climate Chaplin
---
In this session, we will become more familiar with climate grief, trauma-informed practice, individual and community mourning practice, and climate emotional resilience. In small group tables and big...

12:55 PM - 1:40 PM
Lunch
---
Lunch is served by Tayybeh (with SFU Catering) and will be provided for free for all attendees. Halal, gluten free, vegan, vegetarian options will be available
1:40 PM - 2:20 PM
Dialogue 2: Collective Emotions, Liberation & Social Change
---
In this session, we will discuss collective liberation and the connections between emotion, community, and climate justice organizing. We will critically reflect on how systems inform our processing ...

2:20 PM - 2:40 PM
Meditative Activity & Imagination as Protest
---
To bring the event to a close, Sarah Law will lead us through a guided meditation activity engaging our senses and desire in imagining a just climate future. We will have an opportunity to create art...

2:40 PM - 3:00 PM
Debrief & Closing
About this event
We all think about and feel climate emotions in our own ways. Let's bring them together and create collective power. As the climate crisis continues to escalate, youth are experiencing feelings of overwhelming anxiety, fear, and despair. As these emotions can often lead to doomism, being connected with others can help to build emotional resilience.
Join fellow youth on Friday, June 16th, 2023 (from 10:00-3:00 pm PST) for "Holding Climate Emotions: A Youth-Led Climate Justice Conference." Together, we'll discuss our overwhelming climate emotions, process them in a shared space and reflect on how we may take action together.
Hosted by Naomi Leung and Sarah Law, with support from the SFU Morris J. Wosk Centre for Dialogue, this conference aims to build momentum in so-called "British Columbia" and across Turtle Island to organize around the political nature of climate emotions.
This event will feature a variety of speakers, organizers, researchers and panellists who are committed to climate justice, political protest, and emotional resilience. Through deep dialogue and interactive workshops, we'll explore strategies for imagining just climate futures and collective liberation.
Whether you're already involved or you're new to the climate justice movement entirely, this conference is an opportunity to connect with like-minded individuals and gain the tools and inspiration you need to take action. This event is open to the public and will provide complimentary refreshments throughout the day. As limited space is available, we invite participants to register at their earliest convenience.
Land Acknowledgement
This event takes place on the occupied lands of the Sḵwx̱wú7mesh, səl̓ilw̓ətaʔɬ, and xʷməθkʷəy̓əm First Nations who have lived on and cared for this land for thousands of years whose traditional knowledges and practices have sustained the land and waters for generations. Simon Fraser University is an institution that profits from its occupation and dispossession of Indigenous lands and knowledges.
Climate justice is a movement that seeks a just climate future where no one is disposable or left behind. The climate crisis disproportionately impacts Indigenous peoples through ongoing settler colonial violence, pipeline construction, and law enforcement. Our movement is the fight for the return of Indigenous lands, the equitable redistribution of wealth, and the abolition of oppressive systems of extraction and incarceration for all species to thrive and have a secure future.
We are committed to learning with and working alongside Indigenous Nations in our efforts to address the climate emergency and to support emotional resilience and just climate futures. We hope to honour and respect the resilience and wisdom of the Indigenous peoples to build collective power towards returning Indigenous land.
We respectfully ask that attendees be early or on time for the event so as to not disrupt the welcoming ceremony from a youth and elder from xʷməθkʷəy̓əm host Nation.
Do you know whose lands you occupy?
The global movement LANDBACK
Do you own property? Consider paying your rent.
Opportunities and resources to engage in current calls to action and mutual aid will be encouraged at this event.
About the Event Hosts
Naomi Leung (they/them) is a 20-year-old Han Chinese Malaysian settler and guest on ancestral and stolen xʷməθkʷəy̓əm (Musqueam) and scəw̓aθən (Tsawwassen) territories in colonially named "Richmond, BC." As a queer and genderqueer Asian person, Naomi knows that the environmental movement must de-center the white perspective and actively dismantle elitism, white supremacy, and all forms of colonial violence so everyone is prioritized and no one is left behind. This includes neurodivergent, disabled, undocumented, unhoused, lower-income, and immigrant IBPOC queer and transgender bodies who are impacted hardest by marginalization and climate change.
Naomi has a background in community organizing for climate justice education, harm reduction, and policy change with Climate Education Reform BC, and Sustainabiliteens.They are studying at UBC doing a BSc global resource systems, integrating environmental and climate change studies with global health, and the study of climate emotions and resilience. Naomi is also a visual artist and believes Asian Diasporic and IBPOC art, literature, ideas, joy, and futures deserve to be centered and made space for in the climate movement and dominant culture. Naomi is currently working at The Climate Justice Organizing HUB and UBC Sustainability HUB facilitating workshops and creating resources related to anti-oppression, campaign organizing, and emotional resilience.
Sarah Law 婉雯 (she/her) is a sociology master's student at Simon Fraser University, a climate justice organizer and facilitator. Her research interests are in moral economies, neoliberalism, knowledge production, moral politics, political mourning, eco grief, world-making, care practices, and late capitalist affects. She maintains a freelance consulting and workshop facilitating practice alongside passionate projects and organizing around the intersections of climate justice, emotion, and political economy.
Her undergraduate honours thesis offers an understanding of ecological grief as an embodied social practice that is inclusive of mourning environmental-related losses, hopes for the future, and deeply held beliefs about our political realities. Sarah is a co-founder and program coordinator of Rerooting Relationships is currently working on her master's thesis, eco grief workshops, a non-profit DoingSTS, and publishing a zine on climate emotions.
About the SFU Morris J. Wosk Centre for Dialogue
SFU's Morris J. Wosk Centre for Dialogue creates real-world impact for society's most pressing challenges by using dialogue and engagement to co-create solutions, exchange knowledge, support community-engaged learning and build the capacity of others in the knowledge and practice of dialogue.
Directions
The SFU Morris J. Wosk Centre for Dialogue is located at 580 W. Hastings St (enter by Seymour Street at Joe Segal Way), and is a brief walk from Waterfront station and numerous bus stops. Bike racks are available outside the Hastings entrance of SFU Harbour Centre (located across the street). Nearby parking is available at 500 & 400 W. Cordova St. This conference will be held within the building's Strategy Rooms on the 4th floor (rooms 320 & 420). This space is accessible via stairs and elevator.
Accessibility
Washrooms for this event are located on the lower level, second, third, and fourth floors of the building. The venue has a gender-neutral washroom, available on the second floor in the east hallway. All floors within the building, including the venue and washrooms, are wheelchair accessible and serviced by elevators.
We also have a low-stimulation and cool-down room booked and available for use at any moment. We will provide dim lighting, ear plugs, fidget toys, arts and crafts materials, and more. An anti-oppressive and trauma-informed practitioner will be in attendance if you would like silent company, a conversation, a rant, debrief, or a grounding exercise.
visit https://www.niagarawellnesscentre.ca/ to view a list of practitioners and low-barrier appointments available to those located in "BC" and "Ontario."
How can we make this event accessible for you? If you have any questions, concerns, or comments regarding this event's accessibility, feel free to connect with us at dialogue@sfu.ca. 
Code of Conduct and Inclusion Expectation
This is an inclusive event. By submitting your registration, you are agreeing to engage with organizers and other guests at the event in a respectful manner. Offensive or discriminatory behaviour and/or language toward event organizers and other guests will not be tolerated. Such behaviour may result in the removal or banning of the individual(s) from future events.
Frequently asked questions
What if I get overwhelmed and need to take a break?
Do I need to be a climate justice expert or organizer to come?
About the organizer
The Morris J. Wosk Centre for Dialogue is a part of SFU: The Canadian University that is Engaging the World