Description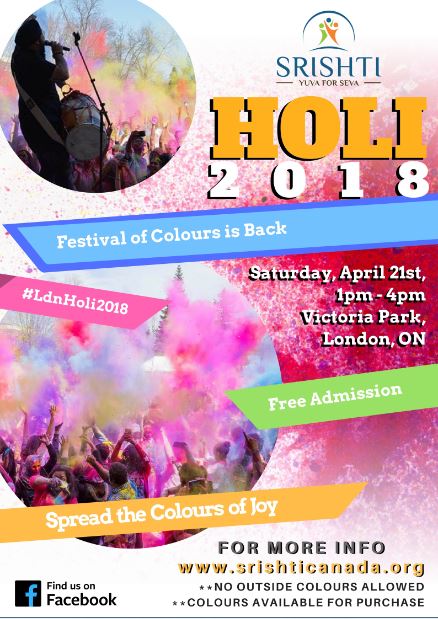 For the 7th year in London, ON, three hours, 1000 Kgs of seven colours and approximately 2500 people celebrating the ancient Hindu Festival of HOLI - The Festival of Colours 2018...April 21st @ Victoria Park, downtown London, ON, from 1:00pm to 4:00pm featuring-
- "Riot of Colours" that will colour London with colours of nature, life and spring.
- High Energy Entertainment featuring Dholis and other live acts.
- Lots of dancing & synchronized colour throws.
- Savoury choice of North Indian & South Indian Cuisine.
- Traditional Ganesh Puja to kick start celebrations.
Total FUN, ENTERTAINMENT & FESTIVITIES ...... EVERYONE IS WELCOME !
Admission is FREE. However if you wish to play with colours, Natural Corn Starch colours will be available at nominal cost.. OUTSIDE COLOURS NOT PERMITTED for security, safety and quality control reasons and will be strictly enforced.
You may buy your colours online too at our website or on Eventbrite, to avoid carrying cash or credit card to the event or to ensure we reserve colours for you, whatever time you arrive at the event, in case we run out of colours.