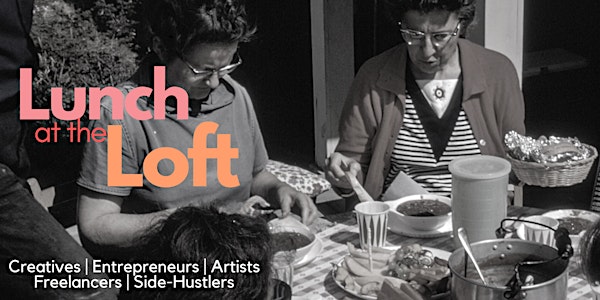 Holiday Lunch at The Loft |Network for Creatives, Entrepreneurs, Freelancer
A Christmas Lunch for Toronto Creatives, Entrepreneurs, Freelancers, Side-Hustlers, Artists, Solopreneurs
When and where
Location
1 Door East of 330 Adelaide St E ( Black Unmarked Door - Message or call for entry 416-877-2414 )) 330 Adelaide Street East Toronto, ON M5A 4S9 Canada
About this event
The Sunday Creative Loft is a welcoming home for all Toronto Creatives, looking to meet other ......Toronto Creatives !
Entrepreneurs, Solopreneurs, Freelancers, Side-Hustlers, Artists ....
The Work of the Creative --- Everyone that identifies as one of the above ----shares one thing in common: They are brave enough to put something NEW into the world, that never existed before.
The journey can be lonely - let's find our tribe, and spend time sharing our project ideas, our wins, and confiding about our struggles.
Come join us for a Catered Lunch + a chance to meet & know some other local Creatives.
Let's Chat about our Marketing Strategies, Our Creative Block, Our Work/Life balance, Setting Goals, Finding Our Passions, Growth, Innovation & everything about the Creative Journey. ...
......AND wish each other Happy Holidays !!
This is part 2 in a Series that launched last Spring!
This event is super causal in tone - no formal agenda.
Consider this as more of a "hang" at your downtown friend's fantastic creative space.
-Come.
-Eat.
-Meet new people.
-Share
-Listen
-Leave Inspired.
Round Table Discussion Topic: "Re-Writes"
' Sometimes you're going to go through a door and you're going to have to tun around and come right back out'
-Marc Lore
Founder of Wonder
Follow @_sundaycreative for Updates
DM on Instagram with any questions!
Hope to see you there 🖤
- Sabrina
(tax receipts provided)
PS - Check out the RAVE REVIEW we got :
"A new home for creatives is on the up and up in Toronto's East End, where the inimitable Sabrina Colosimo, founder of Sunday Creative, hosted an immensely successful second iteration of Lunch at the Loft. Complete with an almost entirely vegan, Lala Lassi catered spread of colourful Mexican dishes and Barbet refreshments, Colosimo pulled out all the stops this April.
Guests were greeted warmly into the loft by Sabrina herself, whose effortless style and kindness mirrored the warmth of the retro yet airy space. Despite the early April climate outside, it was hard not to feel as though one had stumbled into a chic, MCM-themed Moroccan riad in which glossy exotic plants and intricate Turkish rugs tied together eclectic furniture with the sophistication a seasoned interior designer could only dream of.
It was, however, the laundry list of unique and talented guests that stole the show. What should have been an intimidating gathering full of strangers was instead a buzzing hub of conversation and connection, much to the delight of Ms. Colosimo. Among the throng of creatives and entrepreneurs were photographers, writers, life coaches, actors, and a number of other multidisciplinary stars in their fields."
READ THE FULL REVIEW HERE:
https://critiquetoronto.ca/2022/08/08/lunch-at-the-loft/