Holiday Makers' Day Workshop at 5 Bridges! hosted by Front Porch Mercantile...
Description
We had such a great turnout in our little shop last Christmas that we decided to host it this year at Five Bridges Neighbourhood Bar & Grill allowing us to make the class bigger so you can include more of your friendsl! We have arranged a private room where food and adult beverages will be available for purchase! What a great way to make Holiday memories with your besties!
This class is for the die-hard DIYer! A full day to yourself to create some fun Christmas projects for gift giving or to keep for yourself! Last year's Makers' Days sold out so don't delay. This is the one and only date we will be offering.
We will be starting our day at 10 am and breaking for lunch at 12:15. You can choose to stay and treat yourself to lunch at the restaurant, or pop out and be back for 1pm when we will begin our second project of the day.
What's on Santa's workshop table?
"Merry Christmas" Front door gift tags - A cool alternative to a wreath! (pictures to follow)
"Mrs. Claus Cookie Co." stencilled Christmas Tray with handles (pictures to follow)
Your choice of either "Merry & Bright" stamped sign (approx 14" x 34") or Your Family Farm sign (17.5" x 24") which includes additional seasonal cutouts for the box of your pick up so you can switch your trees for flowers, Pumpkins, Easter Eggs etc!
If we finish early, there will be a small bonus surprise project!
Please email Lisa@frontporchmercantile.com with your prefernce of Merry & Bright or Family Farm. No refunds available within 7 days of the event.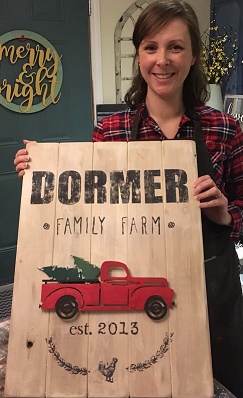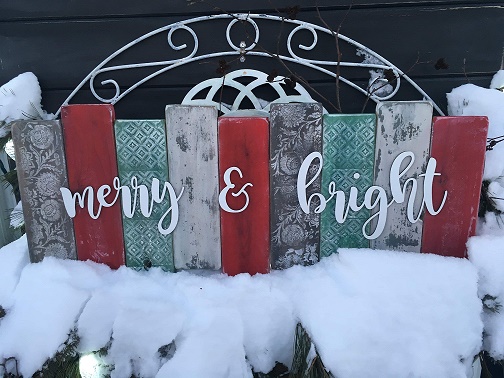 Photos courtesy of Milk & Honey Home in Fredericton, NB.
No experience necessary! No need to be "Crafty"! Promise!
FAQ's
What can I bring to the event?
Just your paint clothes and enthusiasm and we take care of the rest!
How can I contact the organizer with any questions?
You can call the store at 506-899-2574 or you can email lisa@frontporchmercantile.com and she will gladly answer your questions.
What is the refund policy? Workshops are by reservation only. We are sorry we are unable to offer refunds once booked.