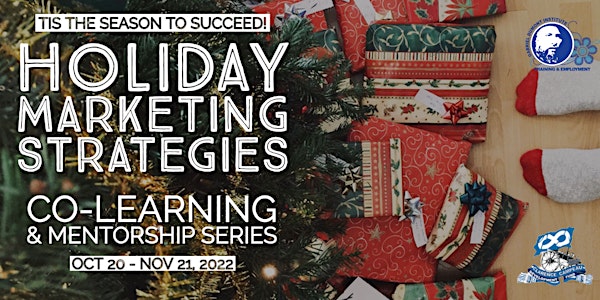 Holiday Marketing Strategies: Co-Learning & Mentorship Series
Métis entrepreneurs can work with an expert to create early and thoughtful marketing plans for the holidays.
About this event
What you'll get out of this free this Co-Learning & Mentorship Series offered by CCDF & GDI Pathways for Entrepreneurship:
TWO co-learning sessions. One to open the program and one to close the program.
FOUR one-on-one mentorship sessions where you can begin to execute the right strategies for your business, just in time for Black Friday
PROGRAM SCHEDULE:
1. Opening Workshop
When: October 20th from 6:30 pm to 8:30 pm
Where: Online
2. Four Mentorship Sessions
When: Once weekly, at program participants' convenience
Where: In-person, on Zoom, or over-the phone sessions
3. Closing Workshop
When: November 21st from 6:30 pm to 8:30 pm
Where: Online
Register today since space is limited.
ABOUT THE PROGRAM:
Halloween, Thanksgiving, Black Friday and, of course, the mega-sales Christmas season are bearing down upon us - for many companies, the holiday season can comprise the bulk of their yearly sales!
We might not all celebrate all the holidays, but collectively, your customers sure do. In the heart of the holiday season lies many celebrations, delicious food and gift-giving.
CCDF, in partnership with GDI Pathways for Entrepreneurship, is offering you the opportunity to work with an expert to create early and thoughtful marketing plans, which can make all the difference. We'll explore ways Métis businesses of all kinds can increase holiday revenue and have your best season yet.
Let's put some spice into your festive sales strategy and help your business spread its wings far and wide. Together we will examine strategies you can implement via print, emails, radio, storefronts, television ads and mobile apps.
Whether small or large business, it's time to start gearing up your online marketing tools to be ready to work hard and celebrate the spirit of the season!
Implementing a holiday sales strategy is a way to rejoice with your customers in the spirit of celebration while tactfully indulging in self-promotion and brand awareness. We will touch on the spirit of "giving" to customers and locals, as well as six other tried and true strategies and tactics you can use to make the most of the merrymaking and your bottom line.