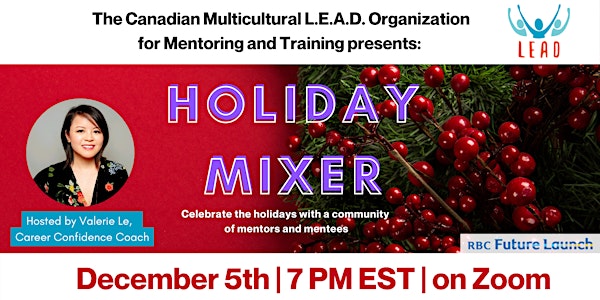 Holiday Mixer
Celebrate the holiday season with The L.E.A.D. Org!
About this event
👀 We See You...
🌟 You're on a journey of growing and evolving.
🤔 You know about the power of community but perhaps haven't found a place where you feel like you belong.
🤩 With the holidays coming up, you feel the desire to gather with others and wonder if you'll find a community of genuine souls where you can authentically connect, be celebrated and grow.
Sound familiar?
💫 Join The Canadian Multicultural L.E.A.D. Organization for Mentoring and Training where community expands our capacity!
✨ As we wrap up the year 2022, we are specially inviting you to join our community of mentors and mentees on Monday December 5th from 7 pm - 8:30 pm for a Virtual Networking & Holiday Mixer Event. ✨
🎄 Hosted by The L.E.A.D. Org Program Coordinator Valerie Le, Career Confidence Coach, the mixer will be a wonderful opportunity to connect authentically! 🎁
❄ Get into the spirit of the holiday season as we play lots of fun holiday-themed games and engage with fellow mentees and mentors. ⛄
🎅 Holiday attire and festive beverages encouraged! ☕
There will be 3 rounds of inspired networking, each with themes:
❄ Round 1: Sharing holiday traditions and memories
❄ Round 2: Wins, Appreciations and Gratitudes of 2022
❄ Round 3: Visions for 2023
Looking forward to sharing the holiday cheer! 🎄
The event will take place on Zoom
✨ About Valerie ✨
Valerie is a Career Development Practitioner passionate about coaching young people along their career paths. Since 2018, Valerie has helped job seekers accelerate their career success with work that is aligned with their authentic selves by helping clients identify and embrace their unique skills, talents, and zones of genius. It was through her journey of trusting the process with the challenges she experienced with her career and confidence that became the catalyst for coaching and mentoring other youth. Beyond career development, with the natural gift of encouragement, Valerie helps people transform their lives by skillfully facilitating life-changing mindset shifts with warmth and compassion, turning self-doubt into self-confidence.
Special thanks to our sponsor RBC #RBCFutureLaunch for making these events possible!