Description
#ShopTheMRKT this Holiday Season!
The MRKT is a community shopping event, organized by the Toronto Creative Entrepreneurs, sponsored by All Canadian Self Storage which features local vendors including fashion, beauty, wellness, visual artists, crafters, food merchants, and retailers.
This event is FREE to the community & kid friendly!
- Door Crasher gifts for first 20 shoppers
- Holiday crafts for kids
- Fantastic Prizes and Giveaways
The MRKT is Leaside's newest seasonal destination for local shopping enthusiasts, shop for handmade treasures and treats, one-of-a-kind gifts, custom solutions and of course, great deals!
Free Entry & Parking
Learn more about vendor opportunities email themrktto@gmail.com
Facebook: https://www.facebook.com/TorontoCE
Instagram: @TorontoCreativeEntrepreneurs


Confirmed Vendors (updated almost daily):
Fashion & Accessories
Chiccoutureclothing - Ladies High End Consignment Clothing
Lingley Bling - Arcane Jewellery Designs - www.lingleybling.com
Love and Struggle - Jewellery - www.loveandstruggle.ca
Malzmode - Men and women accessories, Bow ties, neck ties, ascot ties, pockets squares and lapel flower - www.malzmode.com
My Jewellery Box by Layla - Handmade jewellery - http://myjewelleryboxlayla.wix.com/myjewellerybox-layla
Nisba Shawls - Hand embroidered pure wool Kashmir scarves - Www.nisbashawls.com
SweetLegs North York with Nancy - Wicked Awesome leggings - Facebook.com/sweetlegsnorthyorkwithnancy
Beauty & Wellness
Brooks Essential Oils - All natural oils - @brooksessentialoils (Instagram & Facebook)
Charmed Essentials - high quality essential oil beauty and wellness products (made only in small batches) Instagram: @charmedessentialsbycharlie
KhemisTree™ - Liquid Black Soap, Whipped Shea Butter, Bitter Aloe Colon cleanser - @khemistree_tm (instagram)
Lipsense by Senegence - Long lasting lipstick and cosmetics that won't smudge, budge and stays on - https://m.facebook.com/glamlipsquad/
LUNCH - HandLipsense by Senegencemade Cold Process Soaps made from fresh fruits and vegetables - Facebook, Instagram, and Twitter @lunchsoap
U.P Beauty - All natural skin care - https://www.up-beauty.com/
Food & Drink
Sugar Bliss Cake - Custom cakes and deserts - www.sugarblisscake.ca
TEA-CENTRIC - premium loose leaf teas, tea blends & teaware - https://tea-centric.ca/
The Night Baker - cookies, cookie delivery service - www.thenightbaker.com
Household/ Lifestyle
A.C.E. Learning Program - Educational Resources(children's books) - www.thinktheirway.ca
Costco Wholesale - Costco Memberships - www.costco.ca
The Haute Haveli Collective - Handicrafts sharing the traditions and stories of India - www.thehautehavelicollective.com
StrangeLove Boatworks - Custom hardwood paddles - strangeloveboatworks.com


Art/Mix Media
Be awesome shoppe - One of a Kind Buttons and magnets - www.beawesome.co
M.PIRE Designs - Favour Tags, Stationary, Edible Favors, Event Planning, Etc - www.mpiredesigns.ca
Rache Creates - Mobile Painting, DIY and Crafting events - RacheCreates.com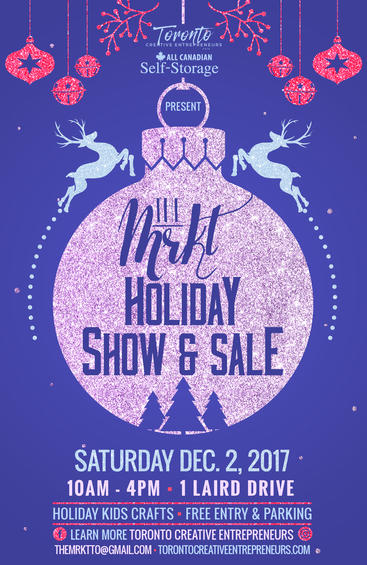 About Our Sponsor:
All Canadian Self Storage's Toronto drive thru location will transform into the ultimate winter wonderland housing this year's Holiday MRKT Show.
The unique venue is conveniently located at the corner of Laird & Millwood in Toronto's Leaside neighbourhood.
The venue offers over 1300 heated storage units in a well illuminated, clean and secured building.
Toronto's All Canadian Self Storage location is no stranger to events, having hosted the Leaside 100 Gala featuring special guest former Prime Minister Stephen Harper.