This virtual soiree series raises funds for women and families of indigenous nations through workshops, a silent auction, and wrap party.
About this Event
We are thrilled to invite you to our virtual Holiday Soiree Series benefiting the The Native Women's Association of Canada (NWAC).
Elate's Holiday Soiree Series is a series of digital events that raises funds for The Native Women's Association of Canada. This event connects communities near and far through a 3-day series of wellness workshops, a curated silent auction, and a final wrap party to support women and families of indigenous nations
The three interactive workshops will occur virtually via Zoom, the evenings of Dec. 9th, 10th, and 11th at 4pm EST/7pm EST and hosted by Victoria-based instructors.
A consciously-curated silent auction will be hosted through the Elate Cosmetics website, and lastly be wrapped up at the end with a special 'Wrap party' you won't want to miss.
THIS EVENT:
#1 DIY Skincare Workshop w/Melodie Reynolds Wednesday Dec. 9th; 4:00pm-5:30pm (PST) / 7pm-8:30 (EST)
Elate's founder and CEO Melodie Reynolds will be teaching you how to understand your own skin, especially during the colder months, while demonstrating how to make a skin-supporting facial oil designed exclusively for your skin type. She will also be showing you how to make a hydrating body butter.
What participants will take away:
An increased understanding of how their skin works, and how to incorporate easy DIY skincare products into their rituals.
**Early registration will have access to PURCHASE additionally, an at-home Facial Oil +Body Butter Ingredient Kit shipped to you prior to the event.
What participants will need in advance:(If at home ingredient was not ordered)
Cleansing Oil Kit
Castor oil or Hazelnut oil
Dry skin: Olive oil, almond oil,
Oily skin: hemp oil, sunflower oil
Luxury oil: rosehip, jojoba, argan
60 ml bottle + pump top
Label + permanent marker for writing ingredients
Essential oils of your choice - (lavender, palmarosa, rose, sandalwood, geranium)
Body Butter Kit:
Shea butter
Cocoa butter
Coconut oil
Olive oil
Essential oils of your choice - sweet orange, lavender, rose, geranium,
100ml jar
Label + marker for writing ingredients
Equipment:
Mason jar for mixing
Towel for wiping hands, bottles
Stove top (or hot plate)
Double boiler
Hand mixer (electric or whisk)
x3 Workshop Bundle Ticket Includes:
#1 DIY Skincare Workshop with Melodie (stated above) +
#2 'Creating a Winter Ritual' Workshop w/ Carly Greene Hill Thursday Dec. 10th; 4:00pm-5:00pm (PST) / 7pm-8:00 (EST)
Yoga teacher, community-organizer and spoken-word artist Carly Greene Hill will empower your daily rituals this season through playful movement, meditation, mantra, and writing in this 1 hour session.
Enjoy a playful spread of wintertime rituals that will help create your perfect routine for the dark season. In this workshop, you will learn more about the benefits of daily rituals and sample from several different practices that each could help make your mornings easeful, peaceful and inspiring. Together, students will try bite-sized creative appetizers of movement, meditation, mantra, writing and more! You will leave this seminar feeling equipped to experiment with different daily rituals, and find your tried-and-true routine remedies for winter.
#3 'Bragging Bravely' Confidence-building workshop w/Scarlet Jaxen Friday Dec. 11th; 4pm-5:00pm (PST) / 7pm-8:00 (EST)
This workshop embraces the power of feminine energy, hosted by Scarlet Jaxen– an unconventional educator, unstoppable leader, and a champion of the Outrageously Feminine! Scarlet will help you celebrate the amazing soul you already are, by embodying the brave feminine energy that every-BODY possesses. This is a playful workshop that will help you share authentically and foster connection.
Purchase the ticket for all 3 workshops in the Elate Holiday Soiree Series with FREE admission to the Holiday Soiree Wrap Party on Friday December 11th at 5:15pm.
All profits from ticket sales will be donated to the Native Women's Association of Canada (NWAC) https://www.nwac.ca/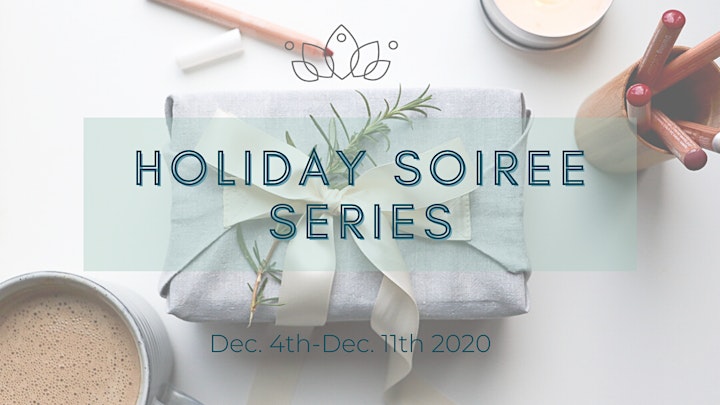 Date and Time
Location
Refund Policy