HOME COMING - Cultivating a safe haven in your body through Expressive Arts
Friday the October 8th @ 7-9PM. RVN Wellness studio in Port Moody Facilitator: Bianca Dowon (she/her)
About this event
How many stories have we as women and femmes been told about our bodies? I'm sure at this point we all lost counts, and that it sometimes feels easier to believe in those false narratives than to listen and trust our own bodies. To be trusting your body means to feel safe in it. Home Coming is a 2-hrs workshop that will invite you to explore "body trust" through various playful Expressive Arts activities. (Expressive Arts is a gentle therapeutic tool that is mindfulness-driven, which encourages and welcomes your most authentic presence using various modalities.)
All women (self-identifying) are invited to this evening of fun and grounding exploration building a safe "home" within your body and rewriting your own truths. All activities require no previous experience and all levels of skills are welcomed.
October 8th 2021 I RVN Wellness (2506 St Johns St, Port Moody, BC V3H 2B4) I 7PM - 9PM I $55 ($40 early bird price until Sept. 19th 11:59PM)
Please contact Bianca directly via biancaleeart@gmail.com to RSVP to avoid service fees.
IMPORTANT NOTES:
* This event is open to self-identifying women over the age of 18.
* All materials and snacks will be provided. Welcome to bring your own journal book.
* Applicable COIVD-19 safety measures and protocols will be applied and updated.
* I acknowledge gender can be tricky because of its expansiveness, and my own limitations. It was an intentional decision to cater this workshop to self-identifying women only, but there will be other future events that are more gender inclusive for femme-identifying and/or vulva-owning-folks who do not necessarily identify as "women". While I continue my learning and unlearning, if any non-women, femme-identifying and/or vulva-owning-folks are in need of resources and educators to connect in the community, feel free to message me for a referral list. I would be happy to refer you to join the works of some really cool folks!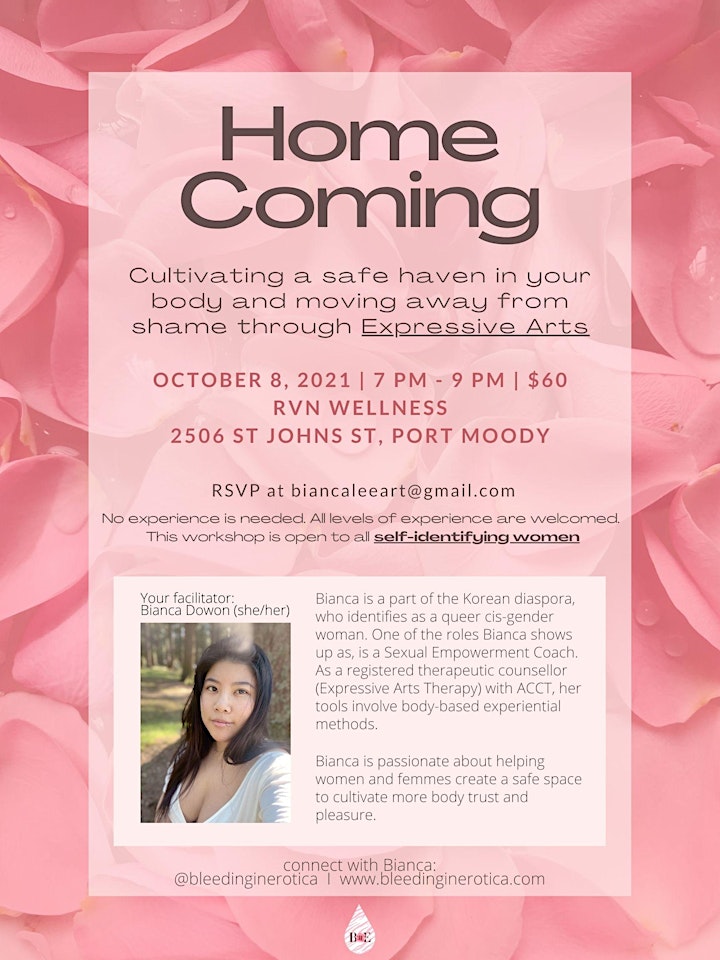 Organizer of HOME COMING - Cultivating a safe haven in your body through Expressive Arts