Home Health Monitoring Technologies Forum
Description
Join delegates from across the province for this full-day forum aimed at exploring solutions for home (personal) health monitoring technologies in Alberta – to improve patient-focused care in our communities.
Agenda
7:00 - 8:00 am : Breakfast & Registration
8:00 - 8:05 am: Welcome & Overview of the day
8:05 - 8:15 am: Opening Remarks - Dr. Ted Braun (AHS) and Tim Murphy (AI)
8:15 - 9:00 am: Plenary Address - Dr. Jonathan Howlett
9:00 - 9:45 am: The Hype Panel
9:45 - 10:05 am: Networking Break
10:05 - 10:55 am: The Hope Panel
10:55 am - 12:00 pm: The Reality Panel
12:00 - 1:00 pm: Lunch, Networking & Showcase Viewing
1:00 - 1:20 pm: Provincial Success Presentation - Remote Pressure Monitoring Initiative - Dr. Raj Padwal
1:20 -1:40 pm: Innovation at AHS - Patty Wickson (AHS, Innovation, Impact and Evidence)
1:40 - 1:50 pm : Innovation Outside of AHS - Sharon Barker (TEC Edmonton)
1:50 - 2:00 pm: Intro to DialogLoop and Live Pitch Evaluation
2:00 - 3:30 pm: TECHNOLOGY PITCH Session 1
3:30 - 3:45 pm: Break - Networking, Showcase Viewing and Discussions
3:45 - 4:55 pm: TECHNOLOGY PITCH Session 2
4:55 - 5:00 pm: Closing Remarks
5:00 - 6:30 pm: Networking Reception

---
Home Health Montoring Technologies Forum MC: Dr. Khurram Jahangir

Morning Session Details
The morning plenary and panel sessions will be moderated by Dr. Tom Noseworthy
Plenary Address from Dr. Jonathan Howlett
Dr. Jonathan Howlett is President of the Canadian Heart Failure Society, Director of Heart Failure (HF) at Calgary's Foothills Medical Centre, and Clinical Professor at the University of Calgary. He previously served with the Canadian Heart Health Strategy, and is currently co-chairing the Alberta Heart Failure Clinical Pathway Initiative. Dr. Howlett serves on several international consensus guideline committees, including those for the European Society of Cardiology, American College of Cardiology, and Canadian Cardiovascular Society and has over 115 peer reviewed publications.
Panel #1: The Hype
Personal Health Monitoring devices used by patients to remotely monitor and communicate their health status with their Physicians and care teams are anticipated to be a solution to provide greater reach and patient focused care with improved health outcomes. Personal health monitoring technologies hold the promise of improved patient self-management of diseases and better chronic conditions care in the community setting. However, there are many unanswered questions and barriers to selecting, validating and adopting these technologies. The focus of this panel will be to explore the current evidence for these technologies and discuss learnings from implementation in other jurisdictions. Are these technologies successful in tracking and managing disease progression? Or are results overpromised and overhyped?
Panelists include: Dr. Lili Liu, Dr. Justin Ezekowitz and Dr. Fiona Clement
Following the exciting discussion of panel one on the hype around personal monitoring technologies and the promise they hold in adding value and benefit to remote patient monitoring, this panel will reflect on the hope for these technologies. Many personal and home health monitoring devices are hitting the marketplace and building anticipation based on the promise they hold for transforming the patient and family experience. Panelists will discuss the optimism patients and seniors living with chronic diseases, and providers have for these technologies. All envision a future of improved health outcomes and supports for patients living in the community.
Panelists include: Dr. Jonathan Choy, Garry Laxdal, Dr. Brad Bahler, Carol Anderson and Dr. Chris McCabe.
As both Hype and Hope panelists come together, we delve deeper into a dialogue about the reality of these technologies and their place in the Alberta health system. What is the capacity of the current system to support these technologies and what barriers must be overcome to realize their value? Panelists will discuss important topics such as policy implications, funding needs, research, and the current state of these technologies in our health system. This will be an opportunity for attendees to share their thoughts and participate in a working discussion for next steps of home (personal) health monitoring technologies in Alberta.



Afternoon Session Details
Presentation details TBA
Technology Pitch Sessions:
Pitch Session 1:
Companies TBA
Pitch Session 2:
Companies TBA


---
The HHMF is organized in partnership by: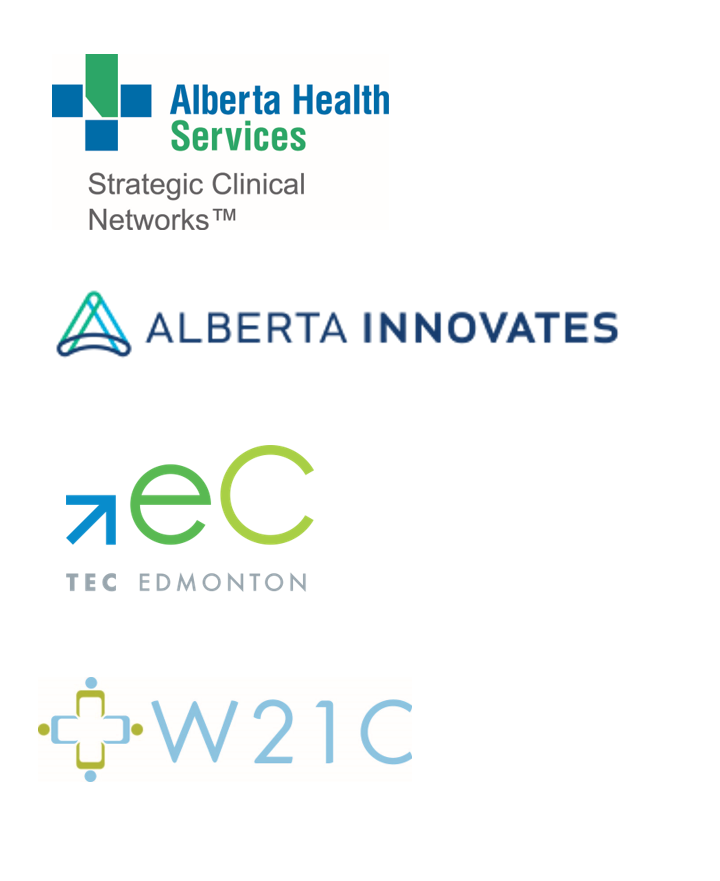 Organizer of Home Health Monitoring Technologies Forum