Description
The day of the "Cancion Criolla" is one of the most emblematic dates of Peruvian music. The Creole maintains its own identity, forged in the traditional sounds of the guitar and the cajon, playing and dancing marinera, festejo, tonderos, polkas and waltzes.
The folkloric dance group "Contigo Perú" is pleased to invite you to our "Tribute to the Creole Song", an evening of live creole music, dance performances, Peruvian food, raffles and much more !!
Date: Saturday November 25, 2017
Venue: UKRAINIAN BANQUET HALL, 1000 Byron Avenue, Ottawa, ON. Parking: FREE
Time: 7:30pm-1:00am
** "Midnight incentive: One more reason to party till midnight"
Basket Raffle of "Peruvian Products"
With your admission ticket, you will receive a coupon for 1 glass of wine red or white.
For more information: contigoperu@hotmail.ca
Come & experience ...... a night to remember !!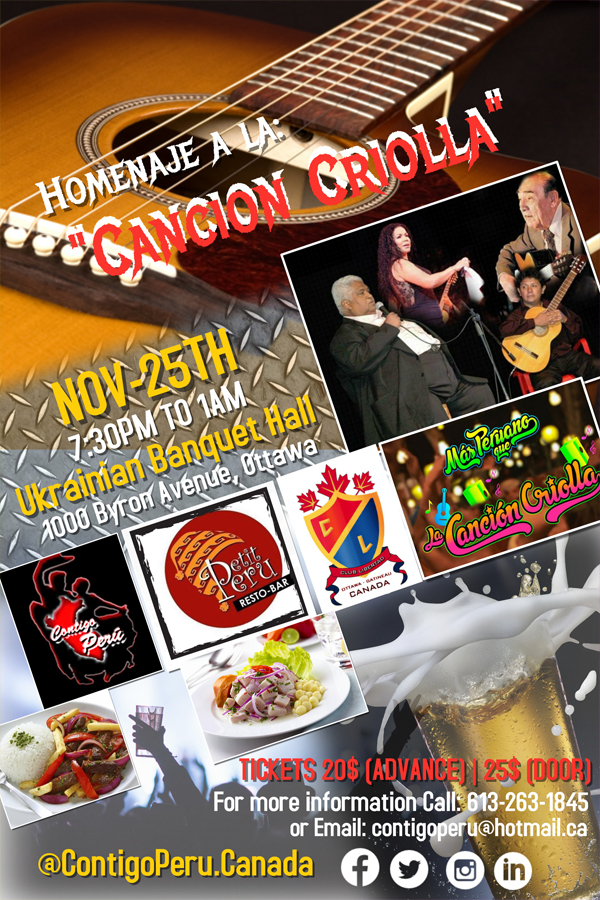 El dia de la "Cancion Criolla" es una de las fechas más emblemáticas de la música peruana. El criollismo mantiene su propia identidad, la que se forjó en los barrios populares al son de la guitarra y el cajón; tocando y bailando marineras, festejos, tonderos, polcas y valses.
El grupo de danzas folklóricas "Contigo Perú se complace en invitarles al "Homenaje a la Canción Criolla", gran espectáculo de danzas, música en vivo, comida peruana, rifas y mucho más ...!
Sábado 25 de Noviembre 2017, desde las 19:30 horas, en UKRAINIAN BANQUET HALL, 1000 Byron Ave, Ottawa, ON. Estacionamiento: GRATIS!!
** "Incentivo de medianoche: una razón más para festejar hasta la medianoche": Rifa de Canasta de "Productos peruanos"
¡Con su boleto de admisión, recibirá un cupón para 1 copa de vino rojo ó blanco!
Para mayores informes escribe a: contigoperu@hotmail.ca
Los esperamos!! VEN y VIVELO...... no dejes que te lo cuenten !!!